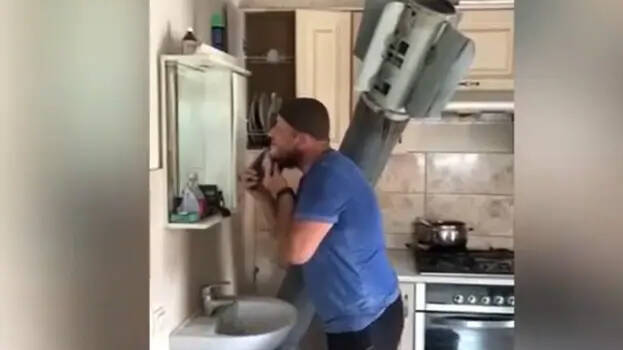 KYIV: As Russian invasion continues in Ukraine, the people of Ukraine are facing unprecedented challenges in their lives. Gunshots and rockets have become the new normal. A video proving the same has gone viral on social media now. The video has been posted in Reddit.
The video shows a Ukrainian citizen shaving like always. However, a piece of a Russian rocket can also be spotted next to him. The man continues to shave without realizing the presence of the rocket in his room. The video was shot by one of his family members, who saw the sight. After shaving, the man turns back and is shocked to see the rocket.
In the video, one can also see both of them inspecting the rocket. However, it was later found that it was only a piece of the rocket and that it will not explode. It is part of the rocket's booster. Generally, rockets will lose the booster just before exploding. It could have landed at the house in a similar way. The roof of the house has only a small crack as it was laid with gypsum ceiling.