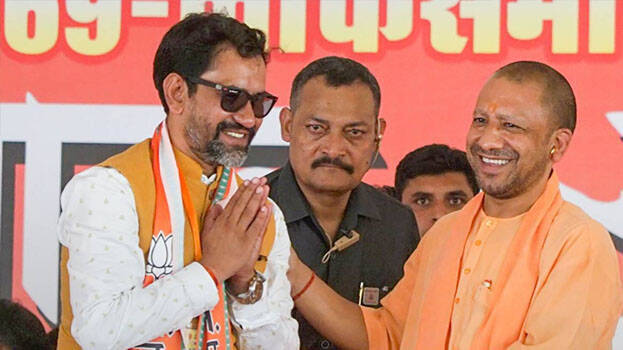 NEW DELHI: The BJP has secured the lead in the bypolls in five states. In Uttar Pradesh, the BJP has won a thumping victory in Samajwadi Party's stronghold Azamgarh. The party has also won the lead in Rampur. With this, the party's members in Lok Sabha have gone up to 303. The BJP's candidate secured a victory in the constituency, where Akhilesh Yadav had earlier won for more than two lakh votes. The bypolls were to fill the vacancies of Akhilesh Yadav and Azam Khan, who had won seats to the legislative assembly. The BSP's votes had come to the rescue of the BJP in both constituencies.
The Aam Aadmi Party (AAP) has lost its only seat in Punjab. In Sangrur constituency, Shiromani Akali Dal candidate Simranjit Singh Mann won with a margin of 6,300 votes, defeating AAP's Gurmel Singh. The election was held to fill the vacancy created by Chief Minister Bhagwant Mann's resignation. Meantime, the AAP has retained its seat in the Delhi legislative assembly.
In Tripura, Chief Minister Manik Saha has won the bypoll to Town Bardowali seat by 17,181 votes. The BJP has won in Jubarajnagar and Surma. In Agartala, Congress candidate Sudip Roy Barman won the bypolls. Whereas, YSR Congress Party (YSRCP) candidate Mekapati Vikram Reddy has won in Andhra Pradesh's Atmakur constituency, for a margin of 82,888 votes. Meanwhile, the Congress secured victory in Mandar, Jharkhand.