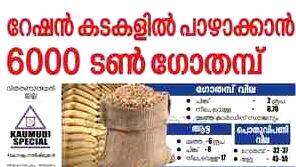 THIRUVANANTHAPURAM: The Central Food Department has given permission to distribute 6,000 tonnes of wheat, stored in ration shops, to yellow and pink ration card holders. The immediate action was prompted by a news published by Kerala Kaumudi on June 20, stating that the wheat ration to be given to the priority category through the Prime Minister Garib Kalyan Anna Yojana (PMG KY) was lying in ration shops and would be destroyed if the government did not intervene. On realizing the seriousness of the issue, Minister G R Anil had sent a letter to the central food department.
The approval was granted on Saturday. The procedures were completed by the civil supplies department by around night.
The distribution of wheat via PMGKY was stopped last month as a precautionary measure to prevent famine in the country. Instead of wheat, it was directed to give rice of the same quantity. However, in Kerala, a lot of wheat remained in rations shops. According to ration shop owners, the wheat should be sold along with regular stocks. Kerala Kaumudi's timely intervention has benefitted lakhs of people in the state.