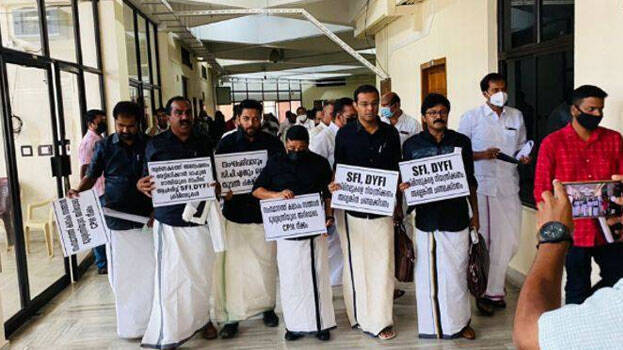 THIRUVANANTHAPURAM: The fifth session of the 15th Kerala Legislative Assembly has started. The assembly session began with the protests of the opposition. The opposition issued an adjournment notice seeking a discussion on the attack on Rahul Gandhi MP's office in Wayanad. The notice was issued by Congress MLA T Siddique.
As soon as the question hour started, the opposition started shouting protest slogans. The protesters lifted atop banners and placards. Despite repeated requests from the speaker, the opposition continued their protests. With this, the session has been temporarily suspended. The session lasted only for five minutes.

The speaker clarified that the notice was under consideration and that banners and placards were illegal. The media was strictly restricted. The Sabha TV has been directed that the visuals of protests should not be exposed.
Meantime, some opposition MLAs came to the assembly wearing black shirts and black masks. Leaders including Shafi Parampil, Anwar Sadath and Saneesh Kumar wore black shirts carrying placards in their hands.