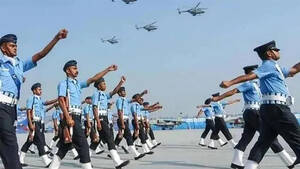 NEW DELHI: Nearly one lakh applications have been received in four days for joining the Agnipath scheme announced by the central government. The Air Force said that 94,281 applications have been received. Since the announcement of the scheme, war-like situation and public property destruction was widespread in the country. The protesters arrived in groups to the railway stations and set fire to many trains. However, when the Central Government made it clear that they would not back down from the scheme, the armed forces stepped in and issued the notification.
This much aspirants registered till 10.30am on Monday. The details of the Agnipath scheme were released by the Central Government on June 14. Under the scheme, youths between the ages of 17-and-a-half and 21 years would be inducted for a four-year tenure in the armed forces. Following the protests, the age limit was raised to 23 years for this time.
The Air Force has been inviting applications for the Agnipath scheme since June 24. Registration closes on July 5 at 5 pm. The Air Force announced via Twitter that more than half a million applications were received in first three days. One has to apply online for Agnipath Yojana 2022.
The Army, Navy and Air Force from now on will recruit soldiers in this way. Five percent of those completed four years of service will be permanently enlisted in the force. The rest of the returnees will be given priority in the paramilitary and defense, public sector institutions. Selection of candidates will be based on online test, physical fitness test and medical examination.