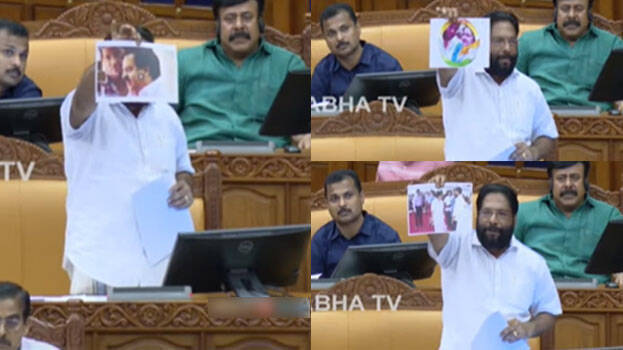 THIRUVANANTHAPURAM: A discussion on the adjournment motion moved by the opposition in the gold smuggling issue has started. The motion was moved by Shafi Parambil. Shafi demanded the government to reveal the relation with Shaj Kiran.
MLA V Joy from the ruling party replied to the motion. The MLA said the right front is intolerant and that the Congress is trying to tarnish the image of LDF's guardian. Joy showed the picture of Ramesh Chennithala with Shaj Kiran in the assembly. The MLA also displayed the pictures of opposition leader V D Satheesan and BJP leader Kummanam Rajasekharan with Shaj Kiran.
'Shaj Kiran is neither our friend nor our broker. The audio of one and a half hour exposed by Swapna contained sweet talk. It got attention because it was a scuffle between two fraudsters. If they were not close, would they have been ready to provide a uterus to wife of Shaj Kiran, who had no children. The Congress-BJP-PC George gang is behind the second episode of the gold smuggling. This episode was scheduled to be aired before the Thrikkakara elections but they couldn't do this,' the MLA said.
When Shafi Parampil was presenting the resolution, Minister P Rajeev raised the issue of order which caused an uproar in the assembly. Rajeev's statement that the secret statement should not be mentioned in the assembly led to the commotion.