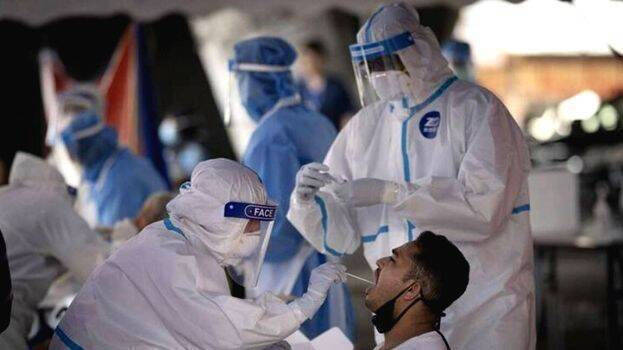 THIRUVANANTHAPURAM: The number of Covid cases in the state has increased sharply in the last 24 hours. 4459 confirmed cases were reported today. On Monday, the state reported 2993 cases. Within one day there was an increase of about 1500 cases. 15 Covid deaths reported today. Ernakulam district has the highest number of Covid cases- 1161. Thiruvananthapuram district is close behind with 1081 cases.
Five Covid deaths have been confirmed in Kozhikode district. Three deaths were reported in Ernakulam, two each in Thiruvananthapuram, Kottayam and Idukki districts and one in Alappuzha. District wise breakup of positive cases are Kottayam 445, Kollam 382, ​​Palakkad 260, Alappuzha 242, Kozhikode 223,Thrissur 221, Wayanad 26 and Kasaragod 18.
The state government has directed the police to take stern action against those who do not wear masks. The decision comes in the wake of the rising Covid cases.

The government had earlier issued an order on April 27 making masks mandatory in public places, driving and workplaces. Masks are also mandatory on private vehicles.
It has been decided to intensify the action as several violations were reported. The state charges Rs 500 for not wearing masks. 2993 positive cases were reported in the state yesterday. Kerala reports one of the highest number of Covid cases in the country.