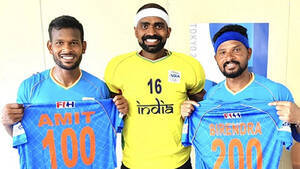 NEW DELHI: Former Indian hockey player Birendra Lakra was accused of murder of childhood friend, by the relatives of the deceased. The body of a 28-year-old man was found on February 28 in an apartment in Bhubaneswar. The young man was found to have committed suicide shortly after arriving in the city.
However, the father of the deceased alleged that Lakra and a young woman named Manjeet Tete were involved in his death. He said that only Lakra and Manjeet were present when his son was found dead inside the apartment and that both were involved in the death. He said that Lakra did not even bother to talk about his son's death and did not even give a clear answer to his repeated questions. The father told the media that Manjeet Tete was the first to find the body of his son and he had many doubts about the incident.
Lakra, who retired from international hockey in last September, was part of India's bronze medal team in the Asia Cup. He was also part of the Indian team that won bronze at the 2020 Tokyo Olympics.