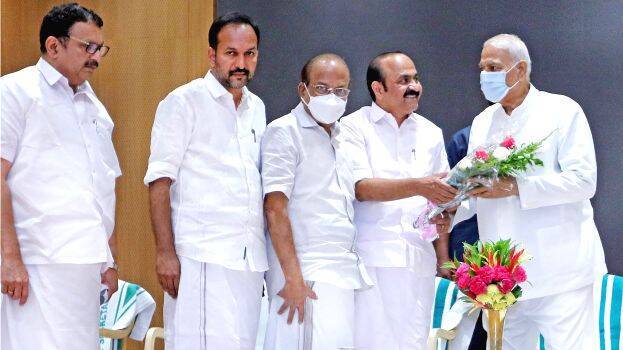 THIRUVANANTHAPURAM: THIRUVANANTHAPURAM: Yashwant Sinha, the candidate of joint Opposition nominee in the presidential election, on Wednesday met the MLAs of the state as part of his campaign works. While Kerala welcomed Sinha, a controversy erupted as no ruling party representatives arrived at the Thiruvananthapuram airport to receive him. He arrived last night as part of an election campaign. The war of words between the leaders of both the fronts intensified as the opposition criticized the Left Front representatives for not coming to welcome Sinha. The UDF leaders led by Opposition Leader VD Satheesan received Sinha at the airport.
The Congress leaders alleged that the Left leaders did not come for fear of Prime Minister Narendra Modi. However, the CPM retorted by saying that the Congress was making such divisive statements to help the BJP. The government need not prepare an official reception as Sinha does not hold any official positions. However, the opposition leaders arrived at the airport as part of political etiquette since Sinha was the joint guest of both the fronts.
Minister P Rajeev coordinated Sinha's meeting with members of the ruling party. VD Satheesan was in charge of coordinating Sinha's meeting with opposition members. Minister Rajeev arrived at the Mascot Hotel where Sinha was staying and met him in the afternoon.
"Although there were 20 ministers in the state capital, none of them came to the airport to receive Yashwant Sinha. Are they scared of Modi?" Satheesan asked. However, Minister Rajeev said that only those with a good BJP mindset could make such criticisms. Sinha will get all the votes from Kerala, he said.
Minister PA Muhammad Riyas said that Minister Rajeev one of those who were in charge of Sinha's visit to Kerala and that the ruling party had intervened to receive and accommodate Sinha.
Sinha meets MLAs
Yashwant Sinha, who started his campaign from Kerala, met MPs and MLAs from both the fronts at the Assembly Members Lounge yesterday afternoon.
Sinha, who launched his campaign at the Shankara Narayanan Thampi Hall in the Legislative Assembly in the presence of Chief Minister Pinarayi Vijayan, also met the Opposition leader and other opposition members at the same venue.