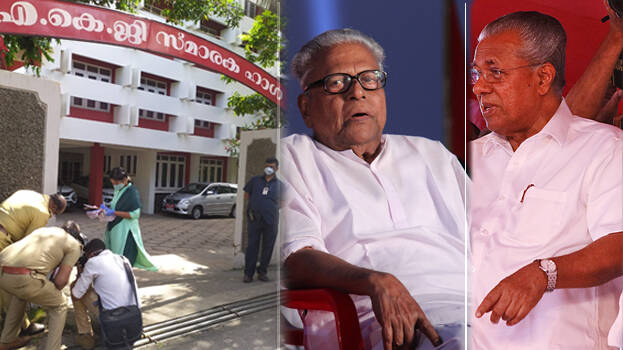 THIRUVANANTHAPURAM: This is the third time that the AKG Centre, the CPM state committee office, has been attacked. In 1983, KSU activists attacked the office and in 1991 the police led the attack. Both these attacks took place during the CPM state secretariat meeting.
On October 31, 1983, the KSU activists who had come from the MLA quarters in Palayam hurled a bomb at the AKG Centre. , AKG's picture, glass windows and tube lights in the office were broken during the attack. Chandran, the then office secretary and others caught the accused and handed them over to the police.
As the news of the bombing at the AKG Centre surfaced, Industry Minister E Ahmed suffered a nose injury in the stone pelting as he was about to return after a program at VJT Hall. Youth Congress state president G. Karthikeyan, District President MA Wahid and Cherian Philip were also attacked.
The protesters who broke into the MLA hostel and entered the rooms of Benny Bahanan and Ramesh Chennithala also paved the way for conflicts. Schools in the district were closed for three days. 14 KSU workers were remanded in connection with the bombing.
On December 7, 1991, the AKG centre was attacked again after a street war broke out between the police and SFI workers in connection with the college union elections. SFI members set fire to the Khadi Board's car which was parked in front of university office and destroyed six buses.
Fifty students and thirty police officers were injured in the lathi-charge and stone pelting. A few students ran inside the AKG centre to escape stone-pelting . When the police reached the gate, stones were pelted from inside and they used tear gas.
The AKG centre was covered in smoke for an hour. The state secretariat meeting was adjourned as smoke spread to the rooms. State Secretary V.S. Achuthanandan, leaders Pinarayi Vijayan, Chadayan Govindan, T.K. Ramakrishnan, and MM Lawrence were trapped inside the room unable to breath. The CPM protested by conducting bandh across the state. The next day, police firing took place in Vattapara, Kudappanakunn and Valiyathura.
During the 1991 attack, the then Rajya Sabha MP M.A. Baby came out angrily from inside the AKG Centre. A police officer tried to insert a small stone into his mouth as he started to speak. Following the notice given by Baby in the Rajya Sabha, the State DGP was summoned before the Parliament Privileges Committee.