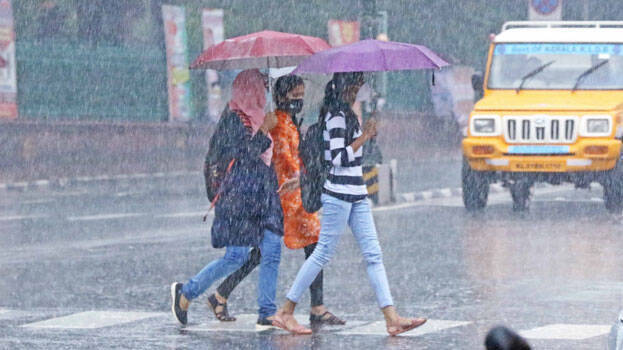 THIRUVANANTHAPURAM: The Meteorological Department issued an alert predicting heavy rain in Kerala for the next five days. Damages were reported from many places. Yellow alert has been sounded in 11 districts except Thiruvananthapuram, Kollam and Pathanamthitta.

A cyclone over Bangladesh and neighboring areas is responsible for the heavy rains. It has been warned that it may intensify into a low pressure over North Odisha during the next 24 hours.
The Meteorological Department has said that the westerly winds will intensify over the Arabian Sea and the impact will bring widespread rain with thunder and lightning over Kerala. There will be isolated heavy rain on July 5th, 6th and 7th.
A house collapsed in the landslide in Idukki. The incident took place on Pathinaramkandam near Murikkasseri in Idukki. The family members escaped with minor injuries. The shutters of Idukki Pabla Dam were opened by 70 cm.

Manikandanchal bridge at Pooyamkutty in Ernakulam has sunk. This bridge is the only access to the four tribal huts and the hill village of Manikandanchal. With the sinking of the bridge, these areas have been isolated.