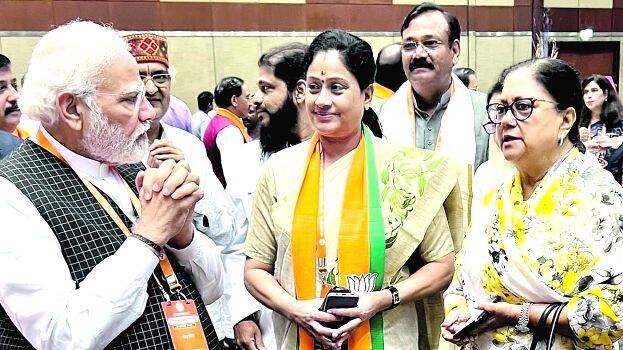 NEW DELHI: Prime Minister Narendra Modi on Sunday asked the BJP leaders to learn lessons from the mistakes of political parties that are on the decline rather than laughing at them. He was addressing the concluding session of the BJP National Executive Committee meeting in Hyderabad. Addressing lakhs of people at the Vijay Sankalp rally held at the Hyderabad Parade Ground in the evening, Modi said that the BJP will come to power in Telangana.
Modi, who indirectly attacked the Congress, said that many political parties which have ruled India for years are today fighting for their existence. "This terminal decline of their identity should not be a cause of laughter for us (BJP leaders). They have given us a lesson not to commit the mistakes they have made in the past," he said.
He reminded the party leaders that it was the duty of the BJP leaders to lead the country from the politics of appeasement to the politics of development. He also appreciated the courage and commitment of BJP activists who were constantly under attack in the non-BJP-ruled states of Telangana, Kerala and West Bengal.
Modi, who said that the BJP will win Telangana in the next assembly elections, also joked that Telangana was being ruled by a Chief Minister who had not gone to the Secretariat for eight years.