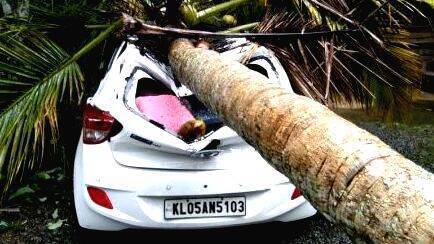 THIRUVANANTHAPURAM: Falling trees, landslides and sea surges caused heavy damage in various parts of the state after heavy rains lashed the state yesterday. A young man went missing in Idukki. The water levels rose in several dams. According to the Meteorological Department, heavy rain will continue for the next five days.
Ozhuvathadam native Akhil (22), son of Thankan, was swept away by the current while he was fishing in Deviyarpuzha in Adimali. A search is going on. Achamma (58), the wife of Kochupurakkal Skaria, got trapped under the soil yesterday following a landslide at Kamakshi in Idukki. She was rescued by her family members by moving the soil. She sustained a serious injury to her arm. Murikkasseri native Elsamma's house partially collapsed following a landslide. The ruins fell on the bed on which Elsamma and her
children were sleeping. They were taken to the hospital for minor injuries.
The house of Thrissur Ollur native Velayudhan was completely destroyed after a tree fell on top of it. No one was injured. Water levels have risen in Peechi, Vazhani, Poomala and Peringalkuthu dams. The water level in the Idukki Dam rose by more than a foot in a single day to 2341.92. A coconut tree fell on top of a car parked in front of a house in Kalathipady near Ponpally Church in Kottayam. The car belongs to Kalathipady native Jinu. Kozhikode is also witnessing heavy rain.
Central and northern districts will receive more rain in the next few days. A cyclonic circulation over south Jharkhand and adjoining areas is likely to strengthen as a low-pressure today. People living near the coast have been asked to remain alert. Trips to the beach and activities in the sea should be avoided.
Orange Alert
Today- Idukki, Thrissur, Malappuram, Kozhikode, Kannur, Kasaragod
July 5- Alappuzha, Kottayam, Ernakulam, Idukki, Thrissur, Malappuram, Kozhikode, Kannur, Kasaragod
July 6- Idukki, Malappuram, Kozhikode, Kannur, Kasaragod
Yellow alert
Today: Pathanamthitta, Alappuzha, Kottayam, Ernakulam, Palakkad, Wayanad
July 5: Pathanamthitta, Palakkad, Wayanad
July 6: Alappuzha, Kottayam, Ernakulam, Thrissur, Palakkad, Wayanad
July 7: Idukki, Malappuram, Kozhikode, Wayanad, Kannur, Kasaragod