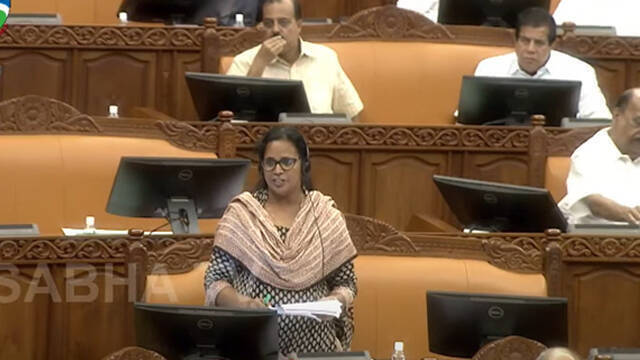 THIRUVANANTHAPURAM: The CPM unleashes violence whenever the party is in a crisis, said K K Rema MLA. She said that when the time RMP was formed, a similar attack was witnessed in Onchiyam. She termed the attack on AKG Centre as regrettable and protesting.
It is a complete failure on the side of the home department that even after four days, the accused have not been caught. She said this while speaking during a discussion on the adjournment motion moved by the opposition in connection with the attack on the AKG Centre.

The allegations levelled against the chief minister and the government have brought the administration and the political atmosphere to the extreme. It is suspected that this kind of attack happened as a part of malicious attempts to divert it.
The chief minister loses his temper whenever allegations are levelled in the assembly. Whenever the CPM is in a crisis, such acts are seen. Similar incidents were witnessed during the formation of RMP. During the formation of RMP, the office of the area committee named after AKG was burnt. The then party secretary Pinarayi Vijayan came there and insulted us calling us as kulamkuthikal.

Even after 14 years of that incident, not a single accused was caught. At the time of that incident, not a single accused was arrested in the case of stone pelting at the party office named after Keluvetan. The accused in the bomb attack on E K Nayanar's house was caught. There are many examples of such incidents.
Attempts are being made to divert the issue by unleashing violence whenever the government faces a crisis. The thief is in the ship itself. Just have to find out who the captain is. If Kerala is not able to trace anyone then should hand it over to the central agency.