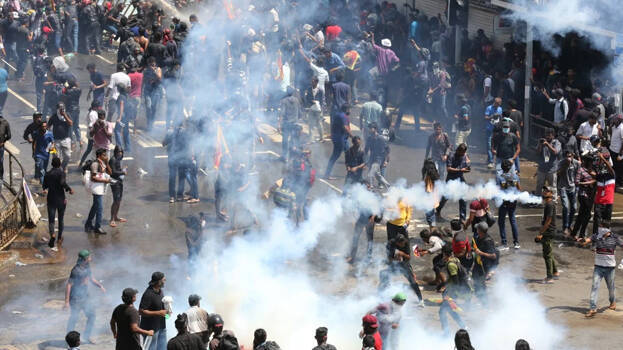 COLOMBO: The protests in Sri Lanka have turned critical as the violent protesters stormed into President Rajapaksa's official residence in Colombo. Sportspersons including Sanath Jayasuriya have joined the protesters. In many areas, the police are in support of the protesters.
Around thousands of protestors had stormed into Sri Lanka's beleaguered President Gotabaya Rajapaksa's official residence. According to some regional media reports, the president has fled the country. However, there are some unconfirmed reports that the president is at the military headquarters.
The protesters have barged into the president's bedroom and kitchen in his residence. A curfew has been declared in the country. According to reports, a total of 33 people, including a former minister, have sustained injuries amid the protests. Of which, two are in critical condition. Several other protesters have reportedly set off to Colombo via train. The protesters have completely seized the Kandy Railway Station. The army had ordered to stop the train, but the protesters refused to do so. The navy and air force have been directed to remain alert.
Taking to Twitter, former Sri Lanka cricket team captain Kumar Sangakkara said that, "This is for our future." "I am a part of the protest and stand with the people's demand… this protest has been going on for over three months," said Sri Lankan former cricketer Sanath Jayasuriya. Meanwhile, Prime Minister Ranil Wickremesinghe has called for an all-party meeting. He has also written to the speaker requesting to convene the parliament.