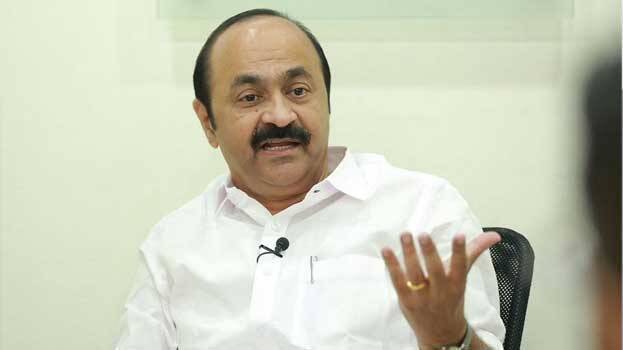 THIRUVANANTHAPURAM: Opposition leader V D Satheesan said Minister P Rajeev has been trying to upsurge the credibility of the Hindu Aikya Vedi leader for the last three days. Everyone knows the relationship between the minister and the Hindu Aikyavedi leader. There is not a single CPM MLA who has not criticized the opposition leader. P Rajeev is coordinating all this, alleged Satheesan.
'Made an MLA say that I am getting benefits of opposition leader. What benefits have I received more than what E K Nayanar and V S Achuthanandan got as opposition leaders? This is tantamount to insulting Nayanar and VS. Why dragging them into this? The panel chairman, who was in the speaker's chair, has clarified that the reference regarding the benefits given by the government to the leader of the opposition is wrong. They are going to give the same benefits to the Chief Whip. Such people are insulting the opposition leader. All this is coordinated by P Rajeev,' said Satheesan.
'The RSS Sangh Parivar leaders are made to convene press meets. When VS's name was mentioned in the controversy over his participation in the Vivekananda Centre's program, everyone was silent. Why giving importance to press meets held by RSS leaders?

'Protests were staged against Muhammad Riyas not for his speech against Union Minister Jaishankar. This was for asking what was done for the development of the national highway during the Oommen Chandy government. Everyone was on strike demanding compensation for those who lost their land that day. That is why those who lost their land today received a huge amount of compensation. This is the first time in the history of the assembly that ministers speaking in a fit of rage during question hour. Arrogance and pride are at its peak,' said Satheesan.