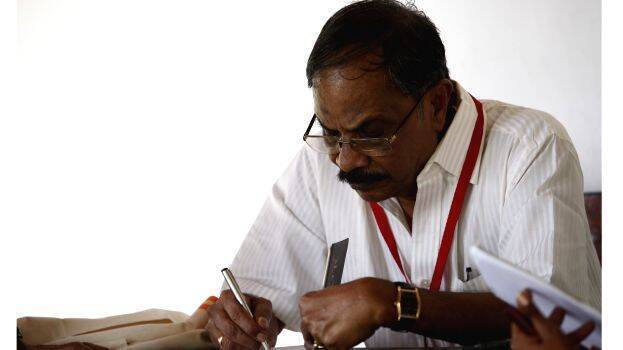 KOZHIKODE: Malayalam's favourite storyteller MT Vasudevan Nair, who will turn 89 on Friday, will celebrate this year's birthday at the shooting set of the film 'Olavum Theeravum.' For this, the legendary writer left his home 'Sithara' on Kottaram Road in Kozhikode yesterday morning. His daughter Ashwathy is there at the shooting set as the creative director of the film.
Director Priyadarshan is remaking the 1969-film 'Olavum Theeravum' directed by PN Menon and written by MT. Mohanlal is the hero. Durga Krishna is the heroine. The shooting is progressing at Moolamattom.
MT's birthday is on July 15. MT never celebrates his birthday. However, he used to have lunch (Sadhya) with his close friends on the day of his birth star Uthrittathi in the Malayalam month of Karkidakam. This time, Uthrittathi is on July 19.
In his famous short story 'Oru Pirannalinte Orma', MT has written about a childhood experience regarding a birthday. Readers often feel the pain while reading about how the child's mother was beaten by her brother for asking for some extra paddy to celebrate her son's birthday. On all subsequent birthdays, the boy in the story has only one wish - that no one should know about his birthday. Perhaps it is these bitter memories that make MT shy away from birthday celebrations. Despite earning enough money and fame, he was still reluctant to celebrate his birthday. This reluctance remains the same even as he turns 89.
MT was born on July 15, 1933, in Koodallur on the banks of the Nila. He often says on many literary platforms that it was Nila and Koodallur that made him a writer.