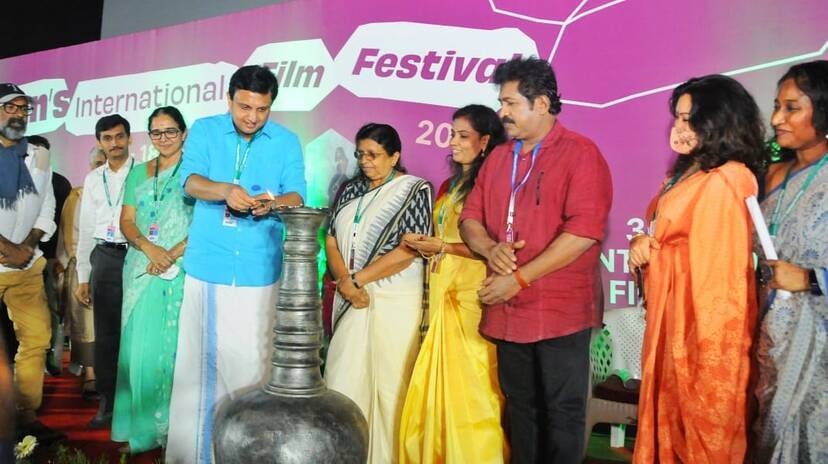 KOZHIKODE: The 3rd International Women's Film Festival, organized by the Kerala State Chalachitra Academy, started in Kozhikode by providing visual of women's experiences at the local, national and international levels. Minister of Public Works and Youth Affairs Adv. P. A. Mohammed Riyas inaugurated the event at Kairali Theatre. The minister said that one of the main goals of the government is to uplift women in all fields and all support will be given to women to establish a foothold in the mainstream of cinema.
Kozhikode Corporation Mayor Dr. Bina Philip presided over the function. State Chalachitra Academy chairman Ranjith, who delivered the introductory speech, said that the Academy is implementing various projects to increase the participation of women in the film industry. Women's Commission chairperson P Sathidevi released the festival book by giving it to KSFDC Managing Director N Maya. 12 film actresses hailing from Kozhikode were felicitated on the occasion. Kuttyedathi Vilasini, Nilambur Aisha, Vidhubala and Seenath were honoured by Minister Mohammed Riyas. Sarasa Balussery, Savithri Sreedharan, Elsi Sukumaran and Pushpa Kallai were felicitated by Mayor Dr. Beena Philip. Ajitha Nambiar, Seema Haridas, Kabani Haridas and Srirajani were also felicitated by P. Sathidevi.
District Collector Dr. N. Tej Lohit Reddy delivered the welcome speech and Chalachitra Academy Secretary C Ajoy delivered the vote of thanks. Film Academy Vice Chairman Premkumar, General Council Members Anjali Menon, Kuku Parameswaran, Kozhikode Sub Collector V. Chelsa Sini, Directors Thara Ramanujan, Aisha Sultana, Mini IG spoke. The inaugural film 'Clara Sola' was screened.