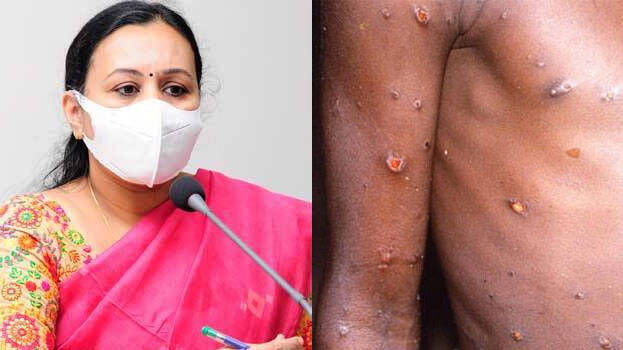 THIRUVANANTHAPURAM: Health Minister Veena George said the health department has issued a Standard Operating Procedure (SOP) in the wake of monkeypox being confirmed in the state. The Standard Operating Procedure includes isolation, treatment, sample collection, etc. The minister said that all government and private hospitals should follow this SOP.
A person of any age travelled to an infected country in the past 21 days and if they have red spots on the body and one or more symptoms such as fever, headache, body pain, and weakness should be suspected of monkeypox. The risk of infection is high if coming face to face with the infected person, interacting without PPE kit, including healthcare workers, direct skin contact, sexual intercourse, touching bed and clothes. They come in the primary contact list. Monkeypox is confirmed by PCR test.

Suspecting of contracting monkeypox and confirmed cases are treated separately in isolation. After isolating the patient, the district surveillance officer (DSO) should be informed immediately. Also samples should be collected as per NIV protocol. The DSO is responsible in sending the collected samples to the lab.

Patients arriving at private hospitals with isolation facilities should be referred to government hospitals only if they request. Only critically ill patients from government hospitals with isolation facilities should be referred to medical colleges. Referral should be done by providing correct information to the DSO and following the protocol. Confirmed cases of monkeypox should be handled as per Centre's guidelines. In case of any doubt regarding the treatment of monkeypox patients, should contact the state medical board.
PPE kit, N95 mask, gloves and specs should be worn when the patient has to be taken in an ambulance. A person should be taken only as per the instructions of the DSO and should also inform the hospital. The patient should wear N95 mask or a triple layer mask. If there are any wounds should cover them. The ambulance and equipment should be disinfected after transporting the patient. The belongings of the patient should be disposed according to the guidelines.