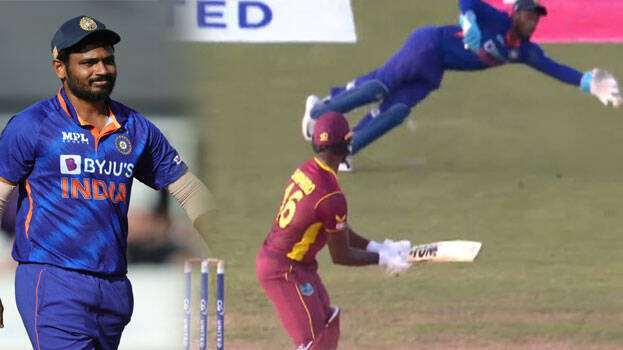 PORT OF SPAIN: Sanju Samson, who failed to shine in batting in the first ODI series against West Indies, has redeemed himself with a terrific dive, saving India of conceding a boundary off a wide ball.
The incident happened during the final over of Mohammed Siraj with four wickets in hand. The Windies just needed 15 runs for victory. After scoring seven runs from the first four balls, Windies needed eight runs from the last two balls. However, Siraj lost control on the fifth ball. That's when, Sanju's dive came to the rescue. Windies was able to score only one run from the ball. India won the match by a narrow margin of three runs. If the ball had scored a four then the outcome would have been different. Numerous players, including Aakash Chopra, have lauded Sanju for his effort.
Team India finished on 308 runs for the loss of seven wickets in 50 overs. Whereas, West Indies scored 305 runs at the loss of six wickets. Mayers (75), Brooks (46), King (54) and Shepard (38 not out) also shined in batting.
Siraj, Chahal and Thakur took two wickets each for India. Half-centuries from captain Shikhar Dhawan (97), Shubman Gill (64) and Shreyas Iyer (54) were instrumental in taking the team to a huge score.