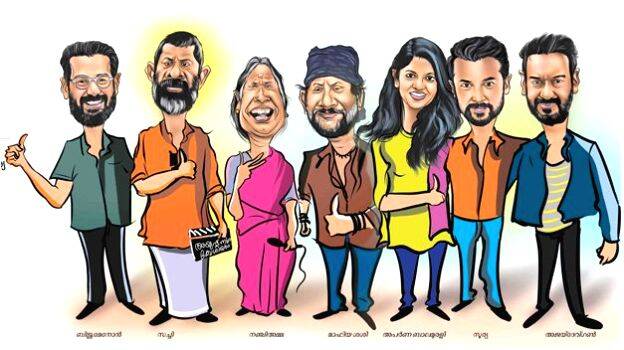 Malayalam cinema can be proud of the accolades it received in this year's National Film Awards. Malayalam won eight awards, including the awards for the best director and singer, while a Malayali also won the best actress award for a Tamil film. These awards are an inspiration to the Malayalam film industry, which is trying to recover from the Covid crisis.
Ayyappanum Koshiyum, written and directed by KR Sachidanandan aka Sachy, bagged four awards. The movie had the right mix of artistic excellence and the ingredients for commercial success. Sachy being selected as the best director is both exhilarating and saddening at the same time. His untimely death came at a time when Malayalam cinema was gearing up to witness some best works of art from him. Let's be proud that Sachy's talent has been recognized. It is a great achievement that Attappady native Nanchiyamma, who was discovered by Sachy herself through Ayyappanum Koshiyum, got the award for the best singer. This achievement of Nanchiyamma reminds us that true talent will emerge no matter where it remains hidden. Biju Menon, who brought to life the strong character of Ayyappan Nair in Ayyappanum Koshiyum, also won the best supporting actor. Mafia Sasi and his team, who did the action choreography for this film, also won an award.
Malayali actress Aparna Balamurali won the national award for best actress for her portrayal of Bommi in Soorarai Pottru, directed by Sudha Kongara. Thiruvananthapuram native Shalini Usha Nair shared the national award for best screenplay by writing the screenplay of Soorarai Pottru along with Sudha Kongara. Shalini is a big promise for cinema. The performance in this film gave the Malayali audience's favourite Tamil actor Suriya an opportunity to share the best actor award with Ajay Devgn. Soorarai Pottru also won the best film award and this will bring a lot of excitement to women filmmakers.
Anoop Ramakrishnan, who won a special mention for the best film-based book, is also no longer with us. He also passed away untimely. Other Malayalis who won the National Award this year are Sree Sankar and Vishnu Govind (best audiography- Malik), Anees (best production design- Kappela), Kavya Prakash (Special Jury award-Vaanku), Senna Hegde (director- best Malayalam film- Thinkalaazhcha Nishchayam), Nikhil S Praveen (best cinematography- non-feature films), Shobha Tharoor (best narration-feature films) and Nandan (director- best educational film).
This year marks the fiftieth anniversary of Adoor Gopalakrishnan's Swayamvaram. G. Aravindan's Thampu was screened in the classic category at the Cannes Film Festival this year. It is heartening to see a strong line-up emerge as their successors to win awards. Many new talents who won national awards in previous years are struggling to make a new film. The state government should encourage them. Our congratulations to all the award-winning artists.