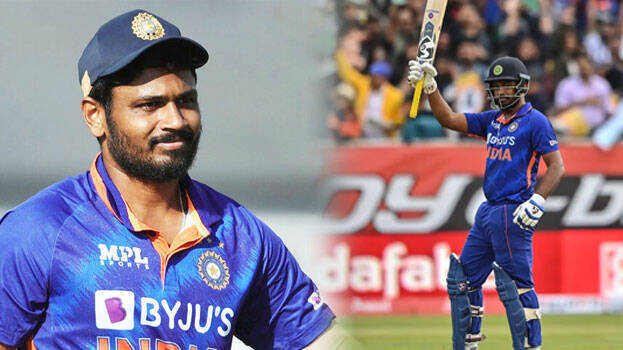 PORT OF SPAIN: Congratulations and support have been pouring in for Sanju Samson in the wake of his smashing performance in the India-West Indies second ODI. In the match, Windies had won the toss and scored 311 runs in 50 overs, with a loss of six wickets. Whereas, India clinched victory with two balls and two wickets remaining, last day.
The timely half-centuries by Axar Patel (64 not out in 35 balls), Sanju Samson (54 in 51 balls) and Shreyas Iyer (63) led India towards the resounding victory. It was Sanju's and Axar's maiden ODI fifties too.
Following which, numerous players lauded Sanju Samson for his fantastic batting in the series. Recently, Sanju had scored a half-century in a T20 match against Ireland as well.
Now, former Pakistani leg-spinner Danish Kaneria has backed Sanju Samson to do well in international cricket. "Sanju is a fantastic player, no doubt about it. But he has been constantly in and out of the team. If he gets consistent opportunities, he will deliver. I am sure about that," Kaneria said while speaking on his YouTube channel.
"Whenever he bats, he looks very elegant. He has the skill to play the long innings. From his looks, it was clear how hard he was concentrating and how focused he was during his innings," he added.
The Pak player's support comes in the wake of the criticisms that Sanju does not take leverage of the opportunities to play in international cricket.