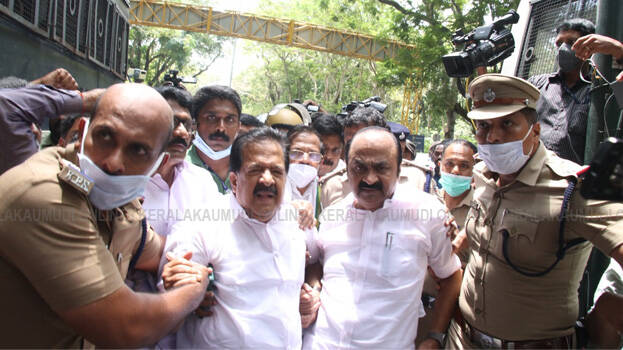 THIRUVANANTHAPURAM: Congress leaders who staged a march in protest against the action of the Enforcement Directorate (ED) questioning Congress chief Sonia Gandhi in the National Herald case, have been arrested. Leaders including opposition leader V D Satheesan and former opposition leader Ramesh Chennithala were among those arrested. The march was staged to the Raj Bhavan.
The MPs who staged march in Vijay Chowk in Delhi were also arrested. Police using force to remove the protestors ended in a scuffle. The police took into custody those protested in front of the AICC.
Sonia Gandhi was questioned for six hours' yesterday. She was allowed to leave at 7 pm yesterday with the directive of appearing today. She was questioned for two hours on July 21. MPs including Rahul Gandhi and leaders were arrested yesterday for protesting against the center for misusing central agencies to face them.