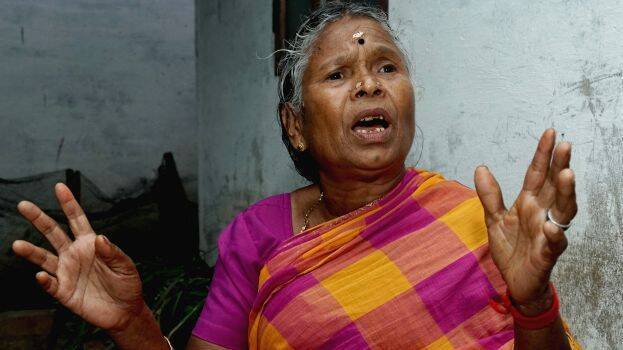 THIRUVANANTHAPURAM: National Award winner Nanjiyamma has been fighting a legal battle for 47 years to get back four acres of land encroached by the land mafia. Even now when Nanjiyamma says that she wants to get back the land, she has no hope, because the mafia is very powerful. That's why the actions are getting delayed even after raising the issue in the Assembly. The land issue came up again when Nanjiyamma received the National Award. Palakkad Collector has invited Nanjiyamma to the Collectorate on August 2.
Kerala Kaumudi had published an article on December 3, 2021 titled 'Vilapangalude Gothrabhoomiyil' about the plight of the people whose land had been taken by the land mafia.
I C Balakrishnan raised the question in the assembly and as per Revenue Minister K Rajan's reply, actions are being taken on the issue.
Nanjiyamma and her husband's father Nagan had complained that four acres of land with survey numbers 1167/1, 6 in Agali village had been alienated. A case was filed under the Scheduled Tribes Act, 1975.
The document states that 4.81 acres in these survey numbers were transferred from Nagan, a tribal, to Kanthan Boyan, a non-tribal. Out of which 3.41 acres was acquired from Kanthan Boyan as surplus land. The remaining 1.40 acres was given to Kallumel K.V. Matthew as per the verdict of court. Out of which, 50 cents of land was handed over to Mathew Joseph Kurian. Land tax was paid in his name. Under the Scheduled Tribes Act, 1999, the Ottapalam sub-collector's order dated February 28, 2020 directed that the 1.40 acres transferred from Nagan be retained by Kanthan Boyan or his heirs. The order also stated that Nagan's heirs have the right to get government land instead of alienated land. It has not been implemented yet. Nagan Moopan and other claimants filed an appeal against the sub-collector's order before the Palakkad collector. The proceedings in that plea is being delayed.
Nanjiyamma says that she has hope in the court and the government and wishes to get back her land.