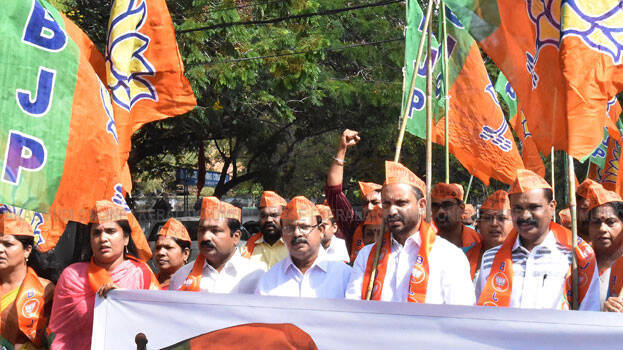 KOTTAYAM: The political controversy in Pala continues despite Mani C Kappan MLA came to the fore rejecting the widespread campaign that he was joining the BJP. Kappan had earlier admitted that he had met with BJP state president K Surendran. When asked about whether he will join the BJP, he said, "I can't say now, it's politics, times will change." His response had created a lot of confusion. Even the BJP leaders were not ready to comment further on the issue. The top leaders in Congress are also upset with Kappan's stance.
The controversy began when NDA's presidential candidate Draupadi Murmu got one vote from an MLA in Kerala. Soon after, it was rumoured that the vote was casted by Kappan. However, Kappan rejected the allegation in a press conference. According to political opponents' campaigns, Surendran had held the discussion as part of the plan to field Kappan as the NDA candidate in Kottayam in the upcoming Lok Sabha polls. The plan is that by making Kappan, who is a Catholic, a candidate, they can influence the Christian vote bank in central Kerala. Kappan has been dissatisfied with the UDF for a long time for not getting due consideration.
Kerala Congress M behind the move
Kappan alleged that Kerala Congress M, which had been sabotaging the development of Pala, is behind the fake propaganda against him on social media. "A defeated MLA in Pala, who is obstructing the development activities without even implementing the water resources department project, is behind this. There is no politics in Pala's development. I will cooperate with anyone", he said. Kappan also clarified that he said nothing bad against Sudhakaran, who had made remarks in favour of bringing the Jose faction back into the UDF.