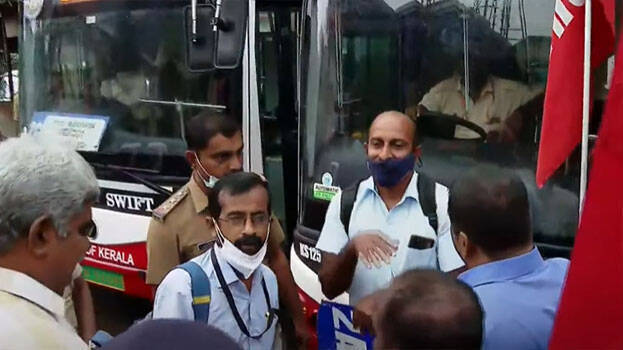 THIRUVANANTHAPURAM: The problems are worsening in the Kerala State Road Transport Corporation (KSRTC). The CITU activists blocked buses in the KSRTC depot in Thiruvananthapuram. The union's protest is against the introduction of SWIFT's electric buses on the current city circular service routes from Monday onwards.
The union activists tried to expel the driver who came to operate the SWIFT bus service. The management's move to hand over electric buses to the SWIFT had provoked the unions. In KSRTC, the employees' salaries for the month of July have not been paid yet. This has also forced the unions to opt for strikes.
Last day, the managing director of KSRTC held talks with the trade union. However, the talks did not yield results. The trade unions are not willing to accept SWIFT's entry into short-distance services. The union leaders also pointed out that the SWIFT services are in loss. The union also added that today's inauguration is a challenge to the employees who are in a crisis due to non-payment of salary.
The Air Rail City Circle, the eighth circle of the city circular, will start electric bus services on Monday. Along with this, electric buses will also be introduced in other circles as well.
In the first phase, four buses will be operated in blue circles, where there are less passengers, and two electric buses will be operated in the rest of the circles. The services will be run in clockwise and anti-clockwise directions. Two electric buses will be used for charging purposes. The charging buses will be replaced as soon as they run out of charge.