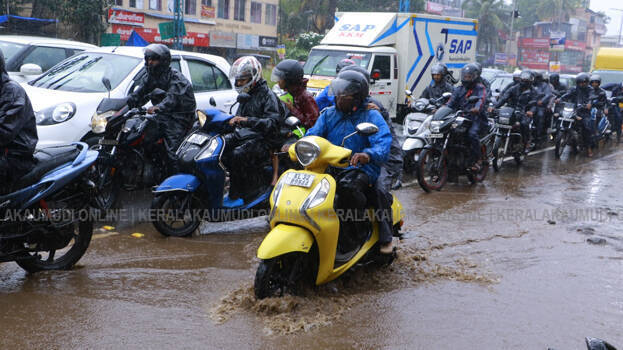 THIRUVANANTHAPURAM: In the wake of heavy rains in the state, red alert has been declared in seven districts, from Thiruvananthapuram to Idukki, on Monday and Tuesday. Heavy rains are likely in these areas. In addition, orange alert has been declared in Thrissur and Malappuram, and yellow alert in all other districts. Red alert has been declared in 12 districts on Wednesday.
Meanwhile, rain damages have worsened in many areas of the state. So far, five deaths were reported in connection with the monsoon. A father and his two children were killed in Pathanamthitta after a car fell into a canal. One person, who fell into the water, has gone missing. Landslides have become common across the state. In Kottayam, traffic remains completely blocked due to landslides in several areas. Electric posts were destroyed. Low-lying areas in Erattupetta, Erumeli and Mundakkayam were flooded. In Aluva, many roads are submerged under water.
In the capital, a car was destroyed as a wall collapsed over it. The traffic in Kallar-Ponmudi road has been blocked owing to landslides. Tourists are banned in Kallar and Ponmudi. Dams were opened as heavy rains continued in the catchment area. In the wake of the ongoing rains, the state disaster management authority has opened a special control room in the area as well.
The widespread rains are due to the formation of a cyclone in the mid-southern Bay of Bengal. This is likely to turn into a low-pressure region. The direction of winds in the Indian Ocean is also favourable for heavy rains. The strength of rains is likely to decrease by Thursday.