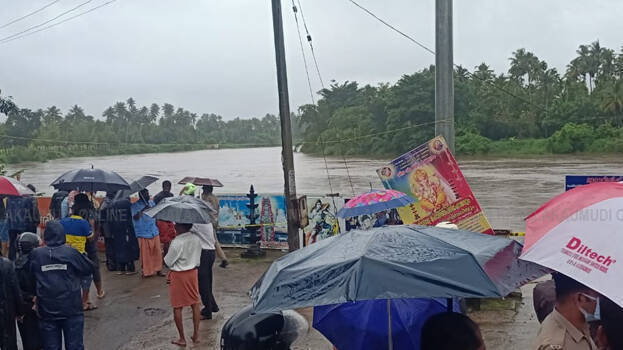 THIRUVANANTHAPURAM: As heavy rain continues, more water will reach Chalakkudy River by evening and so the local residents have been asked to be on alert, the chief minister said. He said they should be ready to relocate as per the instructions of the authorities. Revenue Minister K Rajan had earlier requested that the extremely strong flow in Chalakkudy River should be seen seriously and the people staying on the banks of the river should evacuate immediately.

Reports said the situation in Thrissur is very alarming. Officials have warned people on the banks of Chalakkudy River to move to a safer place. The water level in the river is still rising. It is directed that people in the areas who relocated during the floods in 2018 and 2019 should move to camps. There is also a warning of heavy rain in Chalakkudy. Water from Parambikulam and Peringalkuth dams is being flowed in large quantities into Chalakkudy River. This has caused a serious concern. Along with this, the rain has intensified in the catchment area of Chalakkudy River. The collector has also directed the people on the banks of the Kurumali River to move to safer places as per the instructions of the officials as there is a possibility that more shutters of the Chimney Dam will be raised due to continuous heavy rains in the district. In case of incessant rains, there is a possibility of raising the shutters of the Chimney Dam further and the authorities have advised the people living in the vicinity of the river to take preventive measures.
There are heavy rains in Pathanamthitta. The rivers and streams here are overflowing. Night travelling to hilly areas should be completely avoided and people living on the banks of rivers and those in disaster prone areas should strictly follow the instructions of the authorities. More shutters in dams may open. The water level in Pampa, Manimala and Achankovil rivers is rising steadily. The district administration has warned people on the coast to be cautious. People should shift to safe camps. Floods have intensified in many places in Ranni. Kudamutty road was damaged. The water level in Pampa river has risen. Water has risen in Karingali fields in Pandalam. Caution has been issued in Nathanadi and Cherumala areas.

Strict restrictions have been imposed at Sannidhanam in Sabarimala. Devotees are brought down. Travel from Pampa to Sannidhanam will be stopped after 3 pm. All the devotees have been strictly instructed to descend the hills before 6 pm.

Pathanamthitta, Alappuzha, Idukki, Kottayam, Ernakulam, Thrissur, Palakkad and Kannur are on red alert. Five districts are on orange alert. Orange alert has been announced in Kollam, Malappuram, Kozhikode, Wayanad and Kasaragod. Thiruvananthapuram is on yellow alert.