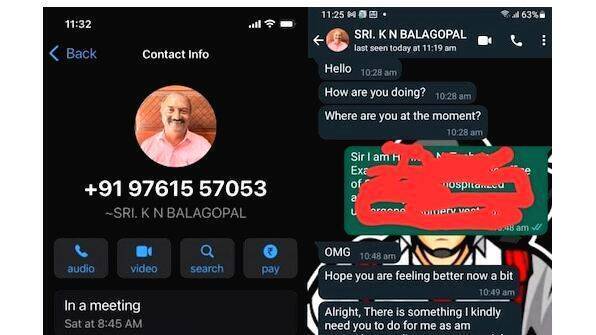 THIRUVANANTHAPURAM: 'Hello. This is the Chief Secretary. I have an urgent need. Can you lend me Rs 30,000?' Soon after receiving the message on WhatsApp, a top official of the Secretariat sent the amount through Google Pay.
The profile picture on the WhatsApp number from which the message was sent was that of Chief Secretary VP Joy. The money went to the fraudster's account in Nagaland. This is not a small matter. Incidents of extorting money by making fake WhatsApp profiles in the name of prominent people like Chief Minister, Ministers, Speaker, Deputy Speaker, Chief of Police, IAS, IPS officers, film stars and media workers are repeating.
Attempts were made two times each to swindle money by creating fake profiles in the name of the CM, DGP Anil Kant and Chief Secretary. At first, the fake profile of the Chief Minister was created by hacking the phone of Ganesan, a native of Coimbatore. The police were shocked when they found Ganesan and brought him to Thiruvananthapuram. Ganesan had a base model phone without internet. Ganesan's number was hacked and fake WhatsApp was created by fraudsters in Uttar Pradesh. The second scam happened on Wednesday. The fraudster hails from Arunachal.
The fake profile in the name of the chief secretary was created using the sim card that belonged to a 70-year-old woman in Mizoram. The inquiry into the complaint of Minister P Rajeev led to a 60-year-old man in Nagaland.
North Indian gangs are behind the fraud. Cyber police said that Nigerian fraudsters are also helping these gangs.