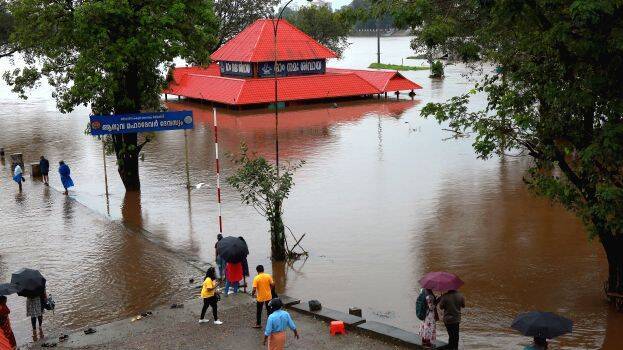 A large number of people remain worried as the rains and floods continue to wreak havoc in the state. The water might recede in four to five days. What happens after that is the question that many families are asking themselves. Even though there has not been as much damage this year as in the great flood of 2018, the situation is bad in many districts. 22 people have already lost their lives in rains, floods and landslides. Many have become homeless. Roads are extensively damaged. The Meteorological Department has warned that heavy rain will continue till Tuesday. About two dozen dams, including the Mullaperiyar dam, which is a constant threat to five districts of the state, have been opened. This is also one of the reasons why rivers overflow their banks and wreak havoc. It is reassuring to know that the water department and the power department are taking maximum precautions to ensure that the mishaps that took place during floods in previous years do not repeat.
Experts are blaming climate change for the current woes and massive damage. It is said that this phenomenon is being faced not only here but all over the world. Even so, it cannot be denied that human actions, forgetting the existence and balance of nature, also cause these miseries. Even while the torrential rains were raging, mining and related works were going on up to the top of the mountains. Quarry owners do not seem to be valuing the stop memo issued by the local bodies. Landslides are increasing exponentially in the state every monsoon season. The fact that the state has witnessed 2239 landslides in the last seven years is frightening proof of our continued complacency on the matter. It is also noteworthy that no other state has faced so many natural calamities during this period.
Like in 2018, this flood season has raised the biggest challenge for the state government. The extent of the damage can be estimated only when the flood waters recede. We must face this flood distress. First priority should be given to the rehabilitation of those who turned homeless. Similarly, financial assistance should be provided as soon as possible to those whose beds are partially damaged. Repairing rain-damaged roads and bridges will cost a lot of money. This flood season will be a big test for the state government which is under severe financial stress. As in 2018, this time too, the government needs the help and cooperation of generous people. It is hoped that the state, which has faced the crisis period with strength, will successfully overcome this phase as well.