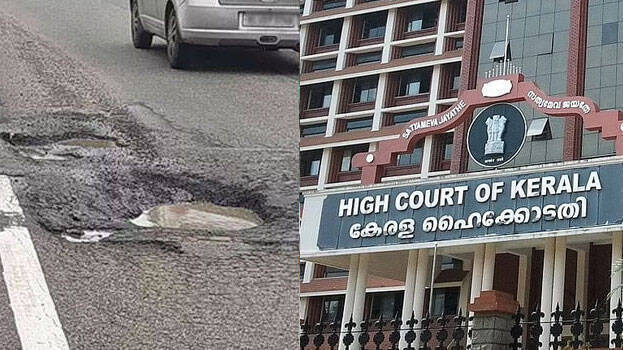 KOCHI: The high court has intervened into the incident in which a scooter rider died after falling into a pothole in the national highway at Athani near Angamaly. The court has given strict directions to fix the potholes on the roads. The court has instructed the NHAI regional officer and project director via amicus curiae.
The scooter rider had met with the accident on Friday night. The dead has been identified as A A Hashim (52) of Anchamparuthikkal House in Thamaramukku in Manakkapadi. He was the owner of 'Hotel Badriyya' at Angamaly Telk junction. After the scooter fell into the pit, Hashim fell on the opposite side of the road and a lorry ran over his body.
The accident took place near Nedumbassery MAHS School on Angamaly-Edappally road at around 11 pm. The pothole was not visible as it was filled with water due to heavy rains. Hashim had died on the spot.
Meanwhile, Public Works Department Minister Muhammad Riyas responded that the faults in the national highway were brought to the attention of the legislature. Many letters were sent to the central government pointing out the issues in the highway from Thrissur to Angamali, including the place where the accident took place. However, they have not paid adequate attention to it, criticized the minister.
"While pointing out the faults, they mocked us. No accidents or potholes should occur at any road. The problem needs to be resolved. I do not intend to insult that the road saying that it belongs to the central government. There are special circumstances in Kerala. Climate is one factor in it. There are some wrong trends. It should be resolved.
Boards containing the information of the contractor, who built the road are being installed, so that people can complain. A total of 3,000 boards have been installed so far. Many have mocked it. But, the repair works are less in places where the boards have been installed. However, the national highway authority is not taking such a stance. The area, where the accident took place, comes under the national highway authority. Why didn't the concerned contractors take required measures there?", asked the minister.
We have informed the central government about many such issues. Several letters were also sent in the regard. The public works department will not be able to fill the potholes on the roads under the national highway authority, he said", said the minister.