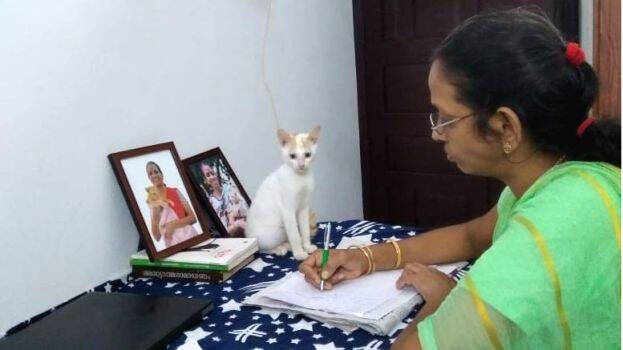 THRISSUR: Irinjalakuda native Bindhu is writing the story of 'Purushu' from his birth to death at the age of seven. The story will be published regularly in Facebook. She also intends to write a book. You might be wondering who is Purushu? It is Bindhu's pet cat, who was blind and paralysed. Bindhu took care of Purushu as her own child. Her story writing begins with her love for cats and will post it in Facebook with the help of her husband and daughter.
Purushu who lost his eyesight due to viral fever and lost his mobility to rheumatism died last January. Bindhu built a memorial in Purushu's burial place. Her day begins by offering flowers at the memorial.
When Purushu became ill due to viral fever and rheumatism, Bindhu took extreme care providing him favourite food and nursing him. Her daughter Athira, an ayurvedic doctor also helped her.
Purushu could identify the voice and smell of family members especially Bindhu's. She understood his moods through the tone of his voice. Bindhu even avoided long-distance journeys to take care of Purushu. 'I am writing the story to express my love for Purushu', said Bindhu.