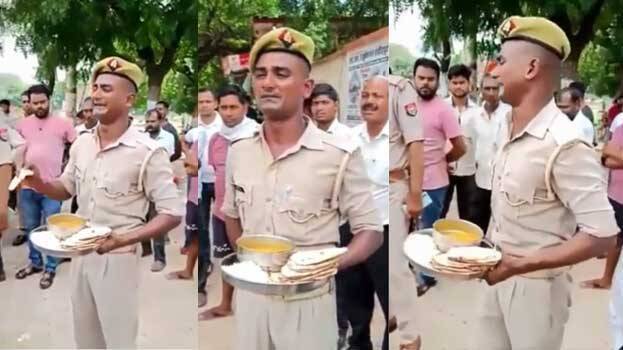 LUCKNOW: The video of a police constable crying over the quality of food served at the district police mess has gone viral on social media. In the video, a cop identified as Manoj Kumar is holding up his food plate, which has rotis, rice and dal, and is complaining about its quality. The incident took place in Firozabad, Uttar Pradesh.
Earlier, Chief Minister Yogi Adityanath had assured that allowances given to police personnel will be increased by around 30 per cent to ensure a nutritious diet for them. "The food that is being given is the kind which even an animal cannot eat, but it is fed to us. It is a scam by the senior superintendent of police and the DCP. Through these people police personnel are provided poor quality food", said Manoj Kumar. The video also shows another policeman trying to console him.
Soon after the video went viral, severe criticisms have been raised against the state government on social media. Following which, Firozabad police came up with an explanation in the regard. Officials stated that action has been taken against constable Manoj Kumar several times for violation of discipline and he has been punished fifteen times. An investigation has begun into the incident, said the authorities.