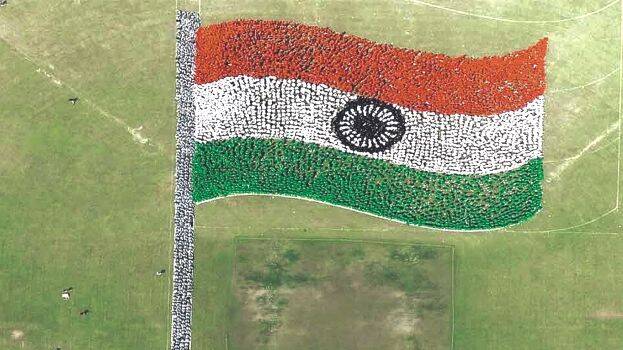 NEW DELHI: The nation witnessed an enthusiastic response to the 'Har Ghar Tiranga' campaign as part of the 75th Independence Day celebrations. The country was filled with tricolour in every nook and corner yesterday as people took up the Prime Minister's call to hoist the national flag at their homes.
5,885 students lined up at the Chandigarh Cricket Stadium and hoisted the national flag, creating a Guinness record. The 2017 record of 4130 people lining up with national flags of the UAE was broken. A huge national flag was hoisted on the banks of Pangong Lake, which shares the border with China, and on the Uttarakhand border at a height of 3,488 feet. Other borders also participated in the celebration by hoisting flags under the leadership of various military units. Flag-carrying bike rallies were also organized.
The central government had revised the flag code by making it possible for the public to hoist the flag in open places, houses and buildings for three days. The central government launched the Har Ghar Tiranga campaign with the aim of creating a personal connection with the national flag.