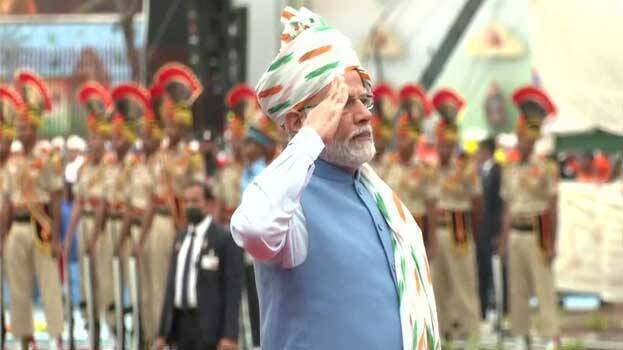 NEW DELHI: In his historic address on the 76th Independence Day, Prime Minister Narendra Modi called upon the people of the nation to move forward with 'Panch Pran' (five pledges) to fulfill the dreams of our freedom fighters by 2047.
After hoisting the national flag at the Red Fort, Modi said, "The first pledge is to move forward with bigger resolves for a developed India. The second is to erase all traces of servitude. Third, be proud of our legacy; fourth, strength of unity; and fifth, duties of citizens which include the prime minister and chief ministers".
"We should be proud of our heritage. When we are connected to our roots, only then can we fly high; when we fly high, we will provide solutions to the entire world", said the prime minister. "We should be united as a people to work towards the upliftment of the nation. Equality is the cornerstone of India's progress. We need to make sure we are united through the mantra of 'India first'. Respect for women is an important pillar for India's growth, we need to support our 'Nari Shakti'," he added.
Lauding India's feet in digital innovation, Modi said, "We always remember Lal Bahadur Shastri ji's slogan of 'Jai Jawan, Jai Kisan'. Later, A B Vajpayee added 'Jai Vigyaan' to this slogan. Now, there is another necessity to add - 'Jai Anusandhan, Jai Jawan, Jai Kisan, Jai Vigyaan aur Jai Anusandhan". Modi also mentioned about Jawaharlal Nehru, Mahatma Gandhi, Sree Narayana Guru, Netaji Subhash Chandra Bose, B R Ambedkar and V D Savarkar in his speech.
"Sometimes, our talent is restricted by language barriers. We need to be proud of every language in our country", added Modi. Taking a dig at nepotism in politics, he said, "Corruption is hallowing the country like a termite. We have to fight it. We've to raise awareness against 'Parivaarwaad' (nepotism) to realise strength of our institutions, to take country forward on the basis of merit. Those who looted India in the past governments are paying for their sins now. We are confiscating their ill-gotten gains. I need your support in this fight against corruption. We need to take on both corruption and the corrupt".