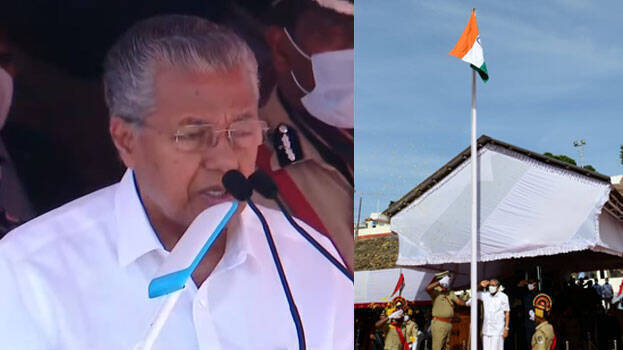 THIRUVANANTHAPURAM: Federal principles should prevail in the country, said Chief Minister Pinarayi Vijayan in his Independence Day message. Federalism is also the basic factor for the survival of the country, he said.
"The freedom struggle also has a history of hunger strikes and face-to-face struggles against the evils of imperialism. The real history of our freedom struggle can be written only when we realize it and move ahead. The Constitution of India was formulated by taking into account of all these diversities. We must recognize that the fundamental values of the Indian Constitution, such as secularism and federalism, ideals of equality and freedom, were also the dreams of the freedom fighters. It is because of this perspective given to us by the renaissance values and freedom movements that we are able to resist and eliminate attempts of communal conflicts and polarization. The most important feature of Indian nationalism is that it proceeds by embracing a variety of languages and cultures. This method, which can be described as a storehouse of diversity, is the foundation of a culture of pluralism. We need to carry forward this lifestyle with more strength," said the chief minister.
"In this country of diverse life and culture, federal principles should also prevail. Our freedom fighters' dream to make our country an inclusive nation can be realized only by maintaining those principles. Federalism is a basic factor for the country's survival too. It should be recognized that it is important to take such a stance and move forward. The Indian freedom movement was a popular movement involving all religious and non-religious people. It was the strength of that movement that contributed to the Constitution's fundamental vision of secularism. Any stance taken forgetting this reality is like smashing the dreams of those who fought for our nation. The Indian independence movement emerged with the aim of utilizing the country's wealth for the advancement of Indian life", added the chief minister.