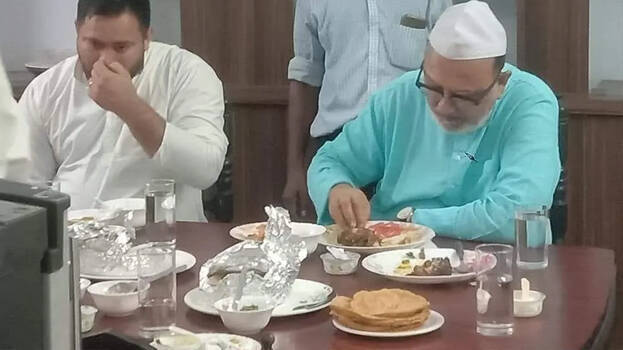 PATNA: The BJP blamed Bihar Deputy Chief Minister Tejashwi Yadav on India's Independence Day. They alleged that the minister ate meat on Independence Day. BJP spokesperson Arvind Singh said birds and animals were slaughtered on Independence Day. The BJP alleged that Tejashwi ate non-vegetarian food at RJD leader Abdul Bari Siddiqui's residence in Patna on August 15. They exposed a photo of it.

'Slaughter of animals is prohibited on August 15 and sale of liquor is also banned in the country. However, on this day, Bihar Deputy Chief Minister Tejashwi Yadav tried to destroy patriotism by eating meat from RJD leader's house. What sensitivity will he show to the people of Bihar when he has no compassion for animals, tarnishing the spirit of patriotism?' asked Arvind Singh.
Bihar cabinet to be expanded today
The cabinet headed by Nitish Kumar will be expanded today. It is heard that 35 ministers will take oath. 15 ministers from Rashtriya Janata Dal, 13 from Janata Dal United, four from Congress and one from Hindustan Awam Morcha will take oath today. The swearing in is at 11:30 a.m. Nitish Kumar was sworn in as the Chief Minister of Bihar on August 10 after the formation of Mahagathbandhan alliance. Tejashwi Yadav was also sworn in as the deputy chief minister.