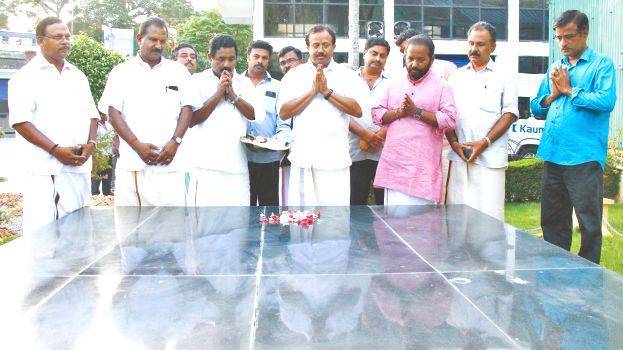 THIRUVANANTHAPURAM: V. Muraleedharan, the central deputy minister for foreign affairs, visited Keralakaumudi Head Office. He was welcomed by chief editor Deepu Ravi, Kaumudy TV broadcasting head A.C. Reji and chief news editor A.R. Rajeev.
The central deputy minister offered his prayers at founder editor K. Sukumaran's memorial. Following this, he exchanged words with senior editors.
Muraleedharan's visit to Keralakaumudi came during his first visit to Kerala after being appointed as the deputy central minister. As the deputy minister for foreign affairs, his first foreign visit will be to Nigeria on 12th and 13th of June. He will be Modi's representative there for the 'Democracy Festival'. On his visit to Dubai on the 14th of June, he will meet with NRIs.
The deputy central minister was accompanied by right-wing leaders Punchakkari Surendran, P. Sudheer, C. Sivankutty, S. Suresh, J.R. Anuraj and K. Rajasekharan.