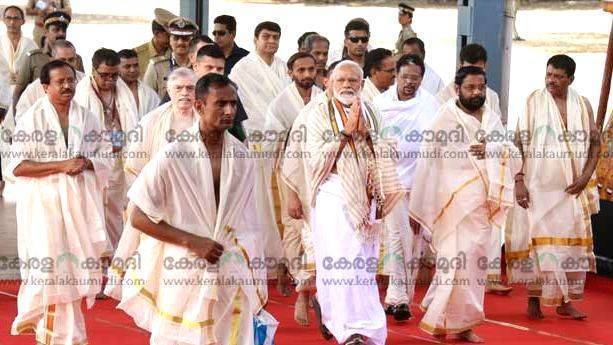 GURUVAYUR: Prime Minister Narendra Modi who arrived at Sreekrishna College ground helipad in a helicopter at 9:45 am from Kochi, reached Guruvayur temple at 10 am.

Though the intimation was that he would spend about one hour inside the temple, he completed darshan and all offerings and came out by 10:40 am. Wearing tradition Kerala dhoti, shawl and waving hands interspersed with namaste gesture at thousands of people who were waiting outside, he came out of the temple and chose to walk back to Sree Valsom government guest to take rest.
Around 11:30, he would reach Sree Krishna HSS ground to take part in a public meeting .

The prime minister performed mainly eight offerings inside the temple such as Ahas, Muzhukappu Kalabham, Thulabharam with lotus, Pal payasam (Milk porridge), Appam, Ada, Avil and Unda mala.

Earlier, the prime minister was received at Eastern Entrance by handing over poorna kumbam to him. He offered prayers at Lord Krishna's deity, offered dakshina in hundi, prayed before all other idols, circled the sanctum sanctorum and performed thulabharam using 110 kg lotus bought from Tamil Nadu.