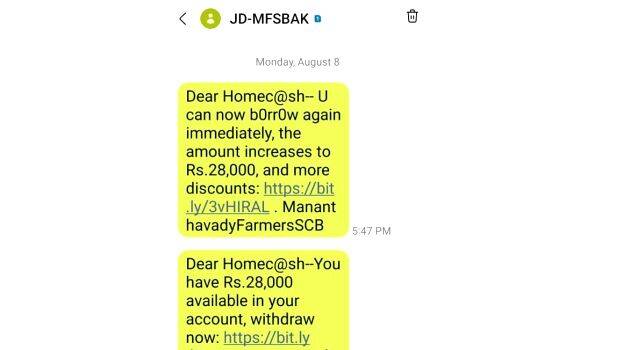 KOCHI: Online loan scammers who traps people and extorts money have now started a new attempt under the name of Co-operative banks in Kerala. Fraud attempt was made on the name of Wayanad Mananthavadi Agricultural Service Co-operative Bank.
The SMS claims that an instant loan of Rs 5000 to Rs 28000 without collateral is available. The bank authorities came to know about it when a native of Kollam called and enquired about this. Managing Director of bank M Manoj Kumar told Kerala Kaumudi that such a scheme doesn't exist and it's a scam. The scam message is circulating in all other districts except Wayanad. The bank has lodged a complaint with the police.
Many loan apps were removed from the Google Play Store following widespread complaints. So the fraudsters have now come up with a new method using cooperative banks as they are common in Kerala. If a person clicks on the link in the message, it gets connected to a Chinese server and automatically downloads loan apps. They leak all information from the phone and later blackmail to capture money.