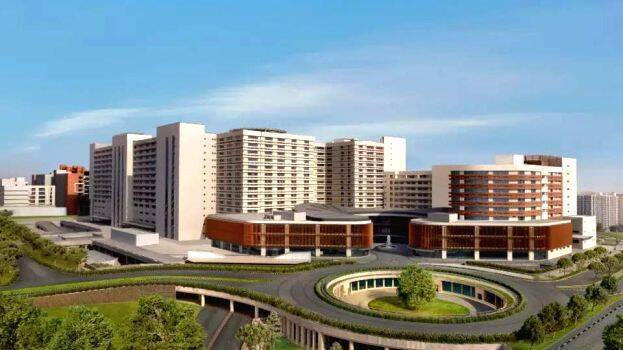 Another great movement is taking birth in the world service path of Mata Amritanandamayi. Amrita Hospital in Faridabad, which will be dedicated to the nation by Prime Minister Narendra Modi on Friday, will have the record of being the largest private hospital in India. When fully operational, this hospital will have 2,600 beds and 81 specialities with state-of-the-art medical facilities and provide world-class treatment. With that, the locals will be able to get expert treatment at a lower cost.

The Amrita Hospital Most will provide expert treatment for all diseases with the help of the latest and state-of-the-art facilities. This massive hospital complex which is coming up near the national capital is the realization of Mata Amritanandamayi's vision of a speedy cure for all dependents. It is also the largest pediatric super speciality hospital in India with a separate pediatric unit for each category. Faridabad Amrita Hospital is spread over 1 crore square feet on 130 acres. The hospital complex consists of 14 towers with an area of ​​11 acres each.
In the first phase, there will be 500 beds in the hospital. When fully equipped in five years, there will be around 800 doctors and more than 10,000 employees. Apart from the world-class treatment facilities, Amrita Hospital, Faridabad will also provide great employment opportunities to the local residents. Extensive facilities such as 534 critical care beds, 64 modular operation theatres, robotic laboratory, nine cath labs, smart clinical lab and 10 radiation oncology bunkers are being prepared. It has a fully mechanized central laboratory facility. Amrita Hospital will become one of the rare hospitals that can take 10,000 samples per hour and conduct more than 250 tests from a single sample.
The hospital is also targetting a comprehensive leap in organ transplantation. Apart from all this, this hospital will also be a centre for innovative research in the field of treatment. A seven-storey research block has been constructed for this purpose. Mata Amritanandamayi, who saw such a dream and made it a reality, gifts every Malayali a moment of pride.
There is no doubt that in the future, this hospital will become one of the proud pillars of India.
Amritanandamayi Matt has always followed the approach of extending divine gifts of mercy whenever the country faces any crisis. Even those who are not interested in spirituality cannot forget that services equivalent to government institutions came from the Matt during the time of Tsunami and Covid. On this occasion, let's hope that Amma's work of spreading love, mercy and strength to the people will continue.