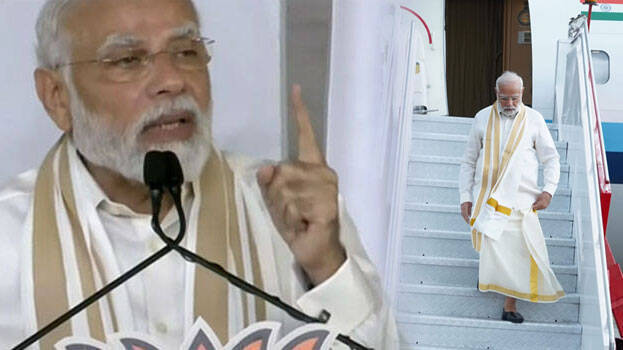 KOCHI: Prime Minister Narendra Modi has arrived in Kerala. Modi landed at Nedumbassery and addressed a public meeting organized by the BJP outside the airport.
Prime Minister said that Kerala is a beautiful land and extended Onam greetings to all Keralites.
'I am very happy to visit Kerala during Onam. Kerala is a land blessed with cultural diversity and natural beauty. Upliftment of the poor and Dalits is the goal of the central government.
One lakh crore projects were implemented in Kerala under the leadership of the central government. Development will happen faster in states ruled by BJP, because in such states a double engine government is working.
Under the Pradhan Mantri Awas Yojana, more than two lakh houses have been sanctioned in Kerala. Of this, one lakh houses have already been completed', said Modi.
After the public meeting, PM will visit Kalady Adi Sankara Janmabhoomi Temple. Sringeri Math Administrator V R Gowrishankar will receive the Prime Minister with Poornakumbham. The first darshan is at Sri Sharada Sannidhi. PM will also attend Mangalarathi conducted at the shrine. He will also visit the samadhi place of Sree Shankaracharya's mother Aryambha and the sannidhi of Sreeshakti Ganapathi.
Later, the Prime Minister will inaugurate the new phase of Kochi Metro. The function will be held at CIAL Convention Centre, Nedumbassery at 6 pm. PM will also inaugurate second phase of Infopark.
In connection with the Prime Minister's visit, tight security measures have been taken in Kochi. Passengers will not be admitted to the airport between 2:00 PM and 8:00 PM. Restrictions have been imposed on the MC road from Angamaly to Kalady.