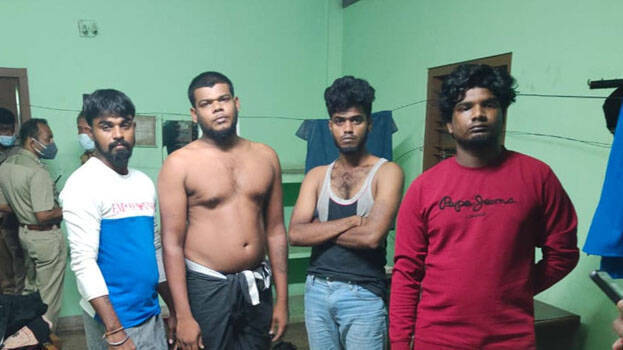 KOLLAM: The police have registered a human trafficking case in connection with the incident in which Sri Lankan natives were nabbed from Kollam. The accused have been identified as Tirukkonamalai native Pavithran (27), Trincomalee native Sudarshan (27), refugees Navaneethan (24), Prakash Raj (22), Ajay (24), Jadhursan (21), Prasad (24), Sharavanan (24), Mathivannan (35), Queens Raj (22) and Dinesh Kumar (36). They had arrived in Tamil Nadu on tourist visa.
They were planning to flee abroad via boat. The first attempt was to escape to Canada via Karakkad, Tamil Nadu. As the effort failed, they decided to go abroad via the Kollam coast. The agent, Lakshmanan, a native of Colombo, informed them that the boat would arrive at Kollam beach on Tuesday evening.
They have not met Lakshmanan in person, but communicated to him via WhatsApp. The agent assured them that they would reach abroad by boat within 45 days. Reportedly, a person was charged Rs 2.5 lakh to cross the sea.
The accused were nabbed from a lodge in Kollam, last day. Kollam city police received information from the Tamil Nadu Q Branch that a group of Sri Lankan refugees had reached Kollam at around 10 pm on Sunday night, planning to cross the sea. The pictures and names of three people were also handed over to the city police. In an investigation centered around the mobile tower location, it was confirmed that the Sri Lankans were in a lodge on Kollam Beach Road. Following which, 11 people were nabbed by the police.