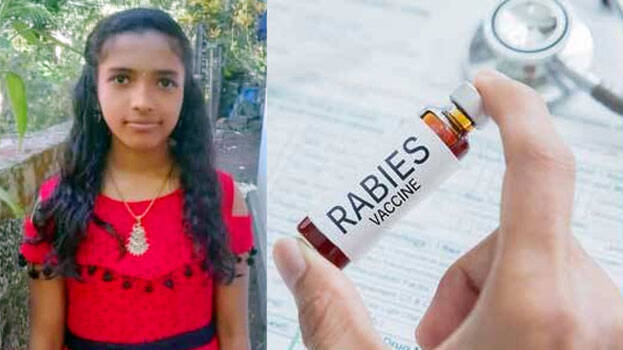 PATHANAMTHITTA: The family criticized the death of the 12-year-old girl who was on ventilator after being attacked by a stray dog. Abhirami, daughter of Hareesh of Perunad in Ranni, was bitten by the stray dog. She died while undergoing treatment at the Kottayam Medical College Hospital.
The victim's mother Rajini said she was bitten by a pet dog. Rajini also alleged that this German Shepherd dog had a belt around its neck and a leash.
Her family said that when they took her to Perunad Hospital, it was locked and later had to take her to Pathanamthitta General Hospital. The family also alleged that the doctor did not identify the seriousness of the injury when they arrived there. Her father had to wash the injuries.
'We bought soap and washed the injuries ourselves. The hospital informed that everything that has to be done was done in four hours. It wasn't a stray dog that bit her. Someone let loose the virus infected dog,' said the girl's mother.

The dog bit Abhirami when she went to buy milk at her neighbour's house on the morning of August 13. The dog bit her on her face, eyes, neck and legs. She was taken to Pathanamthitta General Hospital and administered three doses of vaccine. The fourth one was to administer on September 10. Her health deteriorated in the meanwhile. She was very weak as she was not able to eat food and drink water. She was taken to Pathanamthitta General Hospital again. She was later shifted to Kottayam Medical College Hospital for expert treatment.
She was a seventh class student of Mylapra Sacred Heart School. Her relatives had earlier demanded an inquiry into the child's deteriorating health despite giving three doses of vaccine. Her relatives also alleged that they had a doubt on the quality of the medicine.