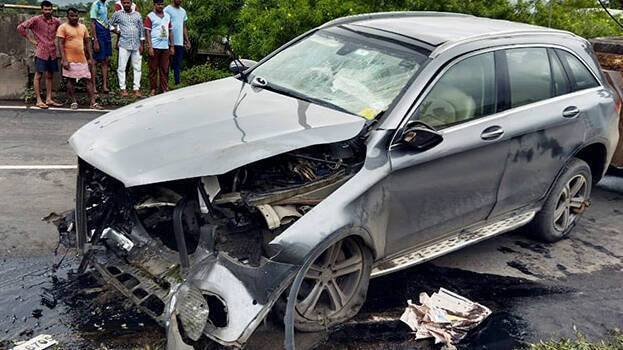 MUMBAI: The preliminary results of the seven-member forensic team investigating the accident that led to the death of prominent businessman Cyrus Mistry are out. The team found a flaw in the design of the bridge at the accident site. Inspection revealed that the parapet walls of the bridge extended into the shoulder lane.

The Mercedes-Benz with advanced safety systems in which they were traveling met with an accident due to this. It has also been found that the safety features deployed in the vehicle were working after the accident. The airbags in the front opened. However, people in the back seat were not wearing seat belts and this led to the death.

The team appointed by the Maharashtra Police and the state transport department carried out software simulations and modelling to determine the exact speed of the vehicle involved in the accident. During the inspection, it was concluded that the car was over speeding. Professionals experienced in crash investigation visited the accident site and conducted an inspection. Apart from them, there are two mechanical and civil engineers from IIT Kharagpur and a member with expertise in simulations and modelling.

An examination of the exterior of the car involved in the accident clearly identified that the vehicle was speeding. It was found that the seat belts on the rear seats were not used and were kept in proper condition. The front airbags were in working condition as the front of the car hit directly.

Even the curtain airbag on the right side was found to have worked. However, since the rear seat occupants were not wearing seat belts, they were thrown from the seats very quickly, hitting the roof and other parts of the car, causing fatal injuries. According to the preliminary post-mortem report, Mistry's cause of death was polytrauma with multiple injuries to internal organs, including head and heart injuries. Mercedes India officials have also started an inquiry into the accident.

Former Tata Sons chairman Cyrus Mistry, who was killed in a car accident, was cremated yesterday morning in Mumbai. He was cremated at the electric crematorium in Worli, Central Mumbai. After the post-mortem at JJ Hospital, arrangements were made at the crematorium yesterday morning for relatives and friends to pay their last respects. Many people from the Parsi community, industrialists and political leaders paid their respects to him.

Cyrus Mistry's elder brother Shapoor Mistry, father-in-law and senior lawyer Iqbal Chagla, businessmen Anil Ambani, Ajit Gulabchand, NCP MP Supriya Sule and others attended the function.