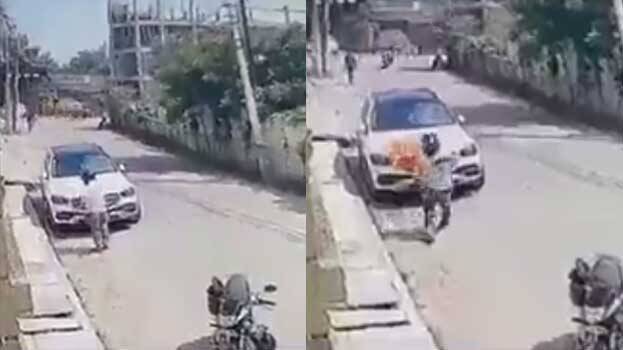 LUCKNOW: A youth in Uttar Pradesh set ablaze his employer's Mercedes Benz car worth Rs. 1 crore for not paying his salary. The incident occurred at Sadharpur on Monday in broad daylight.
The accused, Ranveer (40), a native of Bihar and a contract labourer, was arrested on Wednesday after the visuals of the incident went viral. A nearby CCTV had caught Ranveer setting fire to the luxury car.
Ranveer and property developer, Ayush Chouhan, had been working together since 2019. Ranveer was hired by Ayush to lay tiles on the properties that he was developing. Ayush Chouhan owed Ranveer Rs. 2,68,000 for the work the latter had been doing since 2019. Altercations between the duo were frequent in the name of this payment. In retaliation, Ranveer torched the Mercedes Benz car parked in front of Ayush Chouhan's home at Sadharpur.
The CCTV visuals shows Ranveer arriving on a motor bike and dousing the car with a liquid before setting it on fire. He is seen leaving the scene on his bike.
Meanwhile, Ayush had informed the police that he had already cleared all the payments of Ranveer. In turn the police said that no complaints were received from Ranveer regarding payment issues. The accused will be brought to court and will be remanded to judicial custody, an officer said.