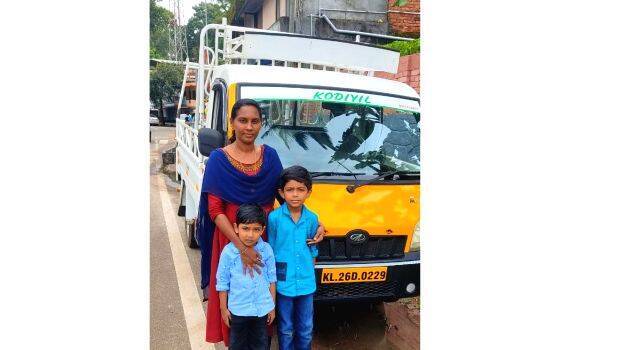 PATHANAMTHITTA: When Sajini drove pickup truck to funeral houses with firewood and other things for cremation, many people discouraged her. But now Pathanamthitta Maroor residents prefer Sajini for setting up pandal for all occasions. 35-year old Sajini is a newspaper agent and distributes papers including Kerala Kaumudi.
Sajini took over husband Ranajith's job when he got killed four months ago during a verbal dispute. First she thought of taking tuitions to look after her children as she had passed TTC. But then she decided to take up Jwala Funeral Sevice started by her husband. Ranajith had taught her to drive a pickup and she even got license.
There was strong opposition from the relatives. They discouraged her and told her that she can't do it alone. But Sajini did not back down. She hired two workers for help.
Sajini wakes up at 4 am and then distributes newspaper to 200 houses. After this, she returns home and sends her children to school. If anyone calls for service, she reaches the place in her pickup along with the workers and the supplies.
Her elder son, 9-year-old Ayush, is undergoing treatment after heart surgery. Youngest son Aarav is 5 years old.
Her husband's murder case is under the consideration of district court. She was threatened by the supporters of the accused during newspaper distribution and while travelling alone in pickup. Despite this, Sajini is struggling hard to live. She has also applied for heavy license and wishes to buy a bigger vehicle on loan after receiving license. Sajini also intends to expand her pandal service.