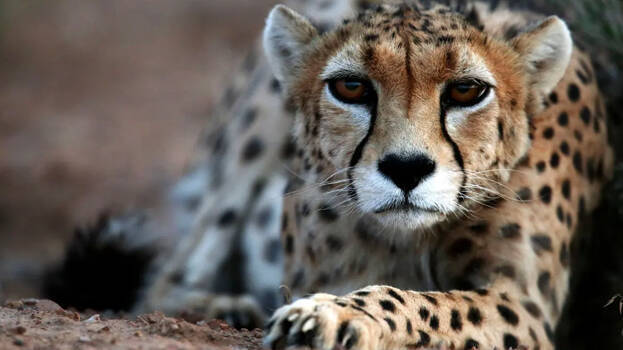 BHOPAL: The Prime Minister has released the cheetahs brought from Namibia to India in Kuno National Park in Madhya Pradesh. The cheetahs brought to India are now housed in a large security system. After few months till they adjust to the new habitat, they will be released into the open forest. But now the experts doubt whether cheetahs will survive in Kuno National Park. Conservationist Valmik Thapar listed worries while talking to a national channel.
A place full of enemies
Cheetahs have many enemies in Kuno National Park. Valmik Thapar opines that hyenas, leopards and dogs can kill cheetahs. Here, cheetahs face many threats to hunt, roam peacefully and to raise their young ones.
Leopards and hyenas are the key enemies of cheetahs. Both of these are abundant in Kuno. In Africa, hyenas chase and kill cheetahs. These threats are present in Kuno. Another big threat is the 150 villages around Kuno. If cheetahs come down to this area, there are dogs that can tear cheetahs apart. It's very a gentle animal. Tigers can be a potential threat too. They visit this region from Ranthambore.
Where to run and hide?
The terrains in India are different from African forests. In places like Tanzania's National Park, cheetahs can run away because there are large expanses of grassland. Cheetahs would not be able to run as fast unless the woodland of Kuno were converted into grassland. There is also a possibility of cheetahs falling into the rocky areas and getting injured. There are many legal issues involved in converting forest to grassland, so it remains to be seen whether that will be possible in Kuno. Cheetahs also does not take much care of their young ones.
Needs prey
In Kuno, cheetahs must be provided blackbucks or chinkaras as prey. Unless we breed and bring in these animals, the cheetahs will have to hunt the Spotted Deer.These deer also have large antlers and can injure the cheetah. And cheetahs cannot afford injury, it's mostly fatal for them.
A royal arrival
Prime Minister Narendra Modi released the cheetahs which were brought from Africa jungles into the Kuna National Park, Madhya Pradesh on Saturday. Eight cheetahs were brought from Namibia in a special flight in the morning. Modi formally released three of them.
Cheetahs, the fastest mammal in the world ( can run up to 110 km per hour), was introduced into the Indian ecosystem after 70 years. Asiatic cheetahs in Kuno became extinct in 1952.
The Prime Minister welcomed the fastest animals on land by opening their cage onto a special quarantine area in the national park at 11.30 am. They were released into the wild on the occasion of the birthday of Prime Minister, Narendra Modi. He wore sunglasses and a safari hat and cranked the lever to release them. He also clicked photographs on his camera. This was the Prime Minister's main program on his birthday. Madhya Pradesh Chief Minister Shivraj Singh Chauhan also accompanied him.
The cheetahs, showing travel fatigue and lethargy from the drug injection, were curiously observing the new location. Lauri Marker, Executive Director of Cheetah Conservation Fund (CCF), Nambia and a world-renowned cheetah expert, co-ordinated the translocation. She followed the cheetahs to India.
The Boeing jumbo jet that came with the cheetahs landed at the Gwalior Maharajpura Airbase at 8 am on Saturday. The earlier decision to bring them to Jaipur was changed at the last minute. After inspection under the supervision of Aviation Minister Jyotiraditya Scindia, the cheetahs were taken to Palpur in an Air Force helicopter and from there by trucks to Kuno National Park.
The cheetahs were brought under the 'African Cheetah Introduction Project in India' conceived in 2009. This is the world's first inter-continental large wild carnivore translocation project. There are 7,000 cheetahs in the world today, which faces extinction threat.
Satellite observation
A team of experts will monitor the movements of the cheetahs 24 hours a day with the help of satellites as radio collars are tied around their necks. They will be released into the vast forest after one month observation. Five females and three male cheetahs were transported to India from Namibia. The age of the males range from 4.5 years to 5.5 years, while the females' age are between 2.5 years and 5.5 years.