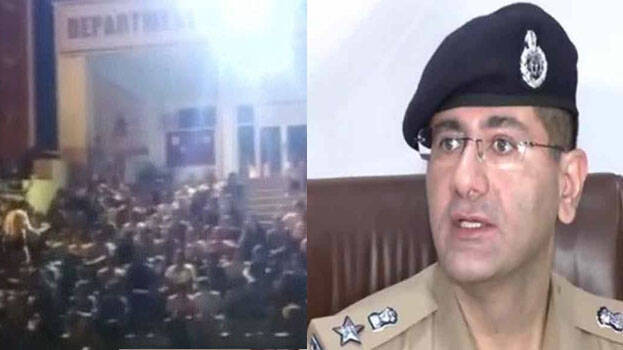 MOHALI: The Mohali police has come out with new findings in the sensitive case related to the allegations of private visuals of girls staying at the women's hostel of Chandigarh University. The police say that they have not found any such visuals of any other girls from the arrested MBA student.
The Mohali Superintend of Police (SP) , P Vivek Sony, said that the visuals that surfaced were in fact of the arrested girl, who took her own visuals in the toilet of the woman's hostel and sent it to her boyfriend. He said that there were no other visuals of anybody else in the mobile that was retrieved from her.
Moreover, the accused student told the police that she did not capture anyone's visuals. She also said that she sent her private visuals to her boyfriend in Shimla. The SP promised that her boyfriend will be apprehended soon and added that more information will be available only after questioning him.
The university authorities also have come forward to deny the accusation that girls' private videos were captured. Other students who saw the girl capturing her own visuals, panicked and spread the misinformation that visuals of other girls too were captured. The press statement by the authorities say that other than the accused girl's own visuals no one else's videos were captured or spread.
Other students complained that the arrested girl had captured private visuals including visuals in the toilet and spread it on social media. The girl was arrested by the Mohali police after receiving this complaint. Though, the police checked her mobile phone and her other electronic devices, they could not find any incriminatory evidence.
SP, Vivek Sony said that he is investigating the accusation of the other students that the girl was threatened by her boyfriend to capture private visuals of other girls in the hostel. They say that her boyfriend uploaded the videos on social media after receiving if from the her.
However, the protesting students are persisting with their accusation and also alleges that visuals of around sixty girls are spreading online.
The Punjab Education Minister, Harjot Singh Bains, said that the issue is very sensitive, which is related to the honor of our daughters and sisters and advised caution. The minister requested the protesting students to remain calm and promised to nab all those who are behind this.
Meanwhile, a fake news was spread that many students tried to commit suicide but the police denied it. The fake news carried the video of a girl fainting during the protests.