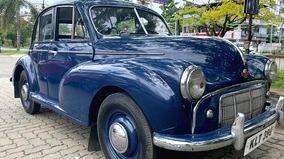 KOCHI: It was seventy years ago that this blue Morris Minor car reached Kochi. Still, she is in good condition and takes a ride around the city once a week. The car is sure to raise an eyebrow everywhere and people, including new generation teenagers, gather to take a selfie in front of it and even to touch it.
The British made car was bought by TR Parameswara Panicker, the Pro Vice Chancellor of the erstwhile Travancore University in 1952. He purchased it from Adisson company in 1952. Since then, she has been part of the heritage and pride of 'Shanthi' house at Ravipuram in Ernakulam. The single owner reputation of this Morris Minor has added to its value.
After the death of Parameswara Panicker, the possession of the car passed to his nephew, Prof. KP Ramachandran Nair, and later to his grandson, Govind Chandran.
Earlier, the car was taken for a ride only when Govind, an IT professional in Hyderabad, used to come home for holidays. Fearing that this long gap might damage the brakes and engine of the car, the members of the Kochi based Classic Vintage Motor Club has taken up the duty to take the car for a ride once a week.
One specialty of this vintage car is the presence of 'Trafficator' instead of indicators. This obsolete signaling device, on the side of the car, will point a lever, shaped like a forefinger, that extends from the door frame to point the direction. Once the switch is off, the lever recedes back into the door frame.
The President of the Classic Vintage Motor Club says that the Morris Minor is a star when it comes to driving and travel comfort.
The registration number of the car is KLT 399, which means it was the 399th car registered in Travancore princely state. Registration number KLT 01 belonged to the royal family.
Though, there are other four Morris Minor cars with the vintage car club in Kochi, those have second-hand ownership. Besides, those cars do not have Kerala registration. KLT 399 blue Morris Minor can thus claim to be the oldest surviving car in Kochi.
The car was being used for daily trips till 1985 and was passed on to Govind Chandran only 3 years back.
She has a mileage of 8 to 9 kilometers per liter.